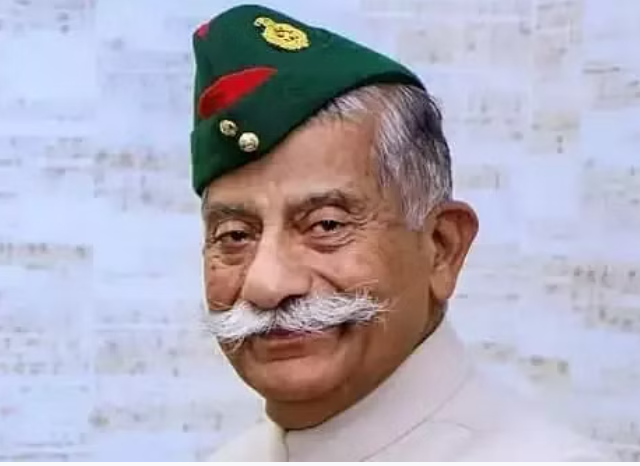 Jammu, Feb 18:  Brigadier (Dr.) B D Mishra (Retired) will take oath as the new Lieutenant Governor of the Union Territory of Ladakh on Sunday, officials said.
He will be sworn in as the second LG of the Himalayan region, at Sindhu Sanskriti Kendra, Leh. He will replace R K Mathur, who held the prestigious office since 2019 when Ladakh became the union territory.
The 83-year-old Mishra is a former brigadier of the Indian Army and the former Commander of the Counter Hijack Force of the National Security Guard (NSG), popularly known as the Black Cat Commandos.
Brig. (Dr.) B.D. Mishra (Retd.) was born on July 20, 1939, in Uttar Pradesh. He was commissioned in Infantry, the Madras Regiment, on December 17, 1961. He retired after an illustrious army career spreading over 33 years and 7 months, in the National Security Guard (NSG) on July 31, 1995. He served in all three major wars – in 1962 Sino-Indian War, the 1965 Indo-Pak War, and the 1971 Bangladesh Liberation War. He operated in the insurgency area from 1963 to 1964 and commanded an Infantry Battalion on the Line of Control in Poonch Sector from 1979-81.
Brigadier Mishra commanded an Infantry Brigade as a part of the Indian Peace Keeping Force (IPKF) in Sri Lanka and fought against the LTTE during the most intense stage of Operation PAWAN on the Jaffna-Palali axis and, after the Jaffna battle, in Vavunia and Trincomalee, from 1987 to 1988.
On the night of April 24 and 25, 1993, as Counter Hijack Force Commander of the National Security Guard (NSG), he led a surgical strike on an Indian Airlines hijacked aircraft at Raja Sansi Airfield, Amritsar. After the elimination of the hijacker by the commandos, 126 passengers, 9 infants and 6 crew members were safely rescued. He received a Commendation from the Prime Minister of India for this operation. After his retirement, when the Pakistani Army occupied the Kargil defences, he volunteered to join the Kargil War in 1999.