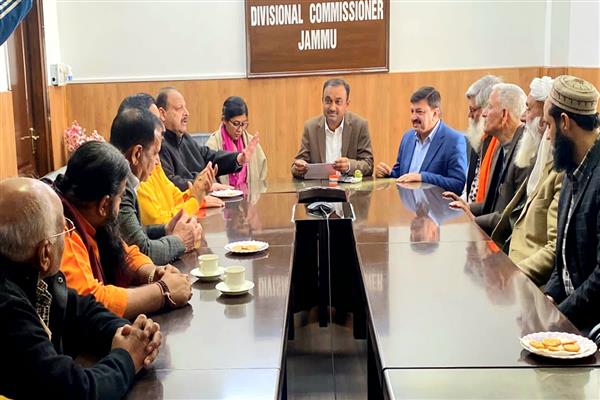 JAMMU, FEBRUARY 13 : A delegation of the civil society members today called on Divisional Commissioner Jammu Ramesh Kumar at his office and discussed the issue of ongoing anti-encroachment drive.
The delegation comprised Devender Singh Rana, Khalid Hussain, Suhail Qazmi, Sahil Ji Maharaj, Arun Gupta, President Chamber of Commerce, Jammu, Rajeev Gupta, Mahant Mohan Giri, Mahant Rajesh Bittu, Mahant Rajeshwar Giri, Vinay Hindu, Mohammad Aslam Qureshi, Choudhary Iqbal, Haji Ashraf, S. Ravinder Singh, S. Manpreet Singh, Anwar Khan, besides other prominent citizens.
Deputy Commissioner Jammu, Avny Lavasa was also present during the interaction.
The delegation informed the Div Com about the concern and sense of insecurity prevailing among the poor people with regard to the ongoing anti-encroachment and demolition drive being carried out by the administration. They urged the Divisional Commissioner that poor people may not be targeted during the ongoing anti-encroachment drive.
Stating that no one was opposed to the action against the land grabbers, they said that there was a need to safeguard the interests of the poor who have constructed small dwelling units.
Responding to the issues raised by the delegation, the Div Com assured that no landless person/ family would be affected by the government during the ongoing anti encroachment drives carried out to retrieve encroached state land. However, he reiterated that big encroachers would not be spared.
"Clear instructions have already been issued to the concerned authorities not to target the poor and the landless public," he assured.
The delegation members also assured to extend full support and cooperation to the administration in the ongoing drive. The delegation said that the Jammu Civil Society is united and committed to maintain amity, tranquility and order in the city as per its glorious ethos of peace and harmony.