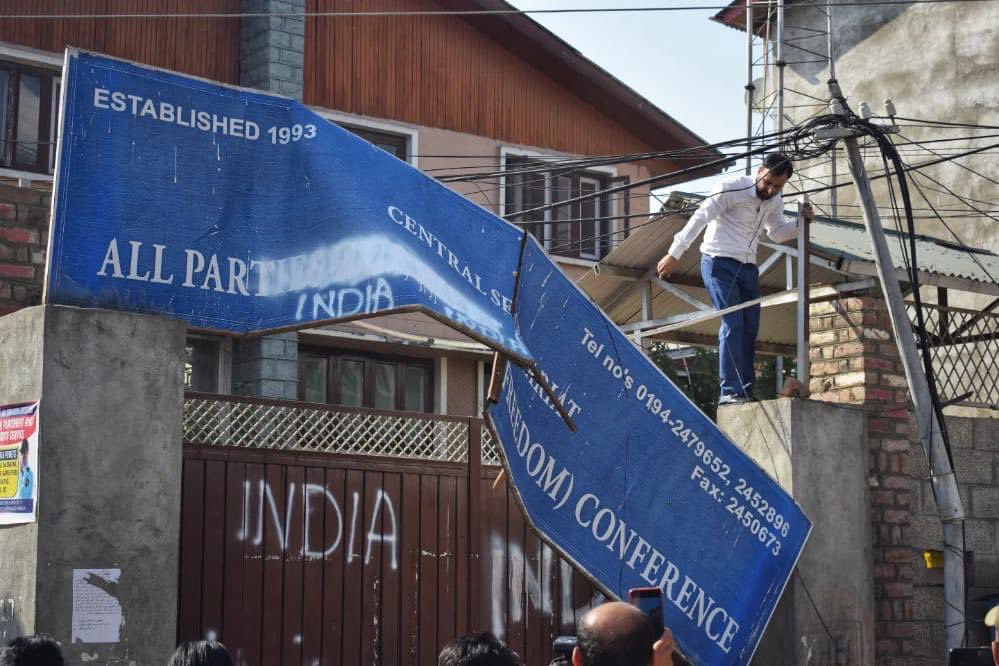 Delhi: A Delhi Court has ordered attachment of All Parties Hurriyat Conference's (APHC) office in Srinagar in a UAPA case probed by National Investigation Agency (NIA) against separatist leader Nayeem Ahmad Khan, LiveLaw.in reported. 
Khan, who has been in judicial custody since August 14, 2017, has been accused of "creating unrest" in the Kashmir valley by the National Investigation Agency. He was arrested on July 24, 2017. He was denied bail in December last year.
Additional Sessions Judge Shailender Malik of Patiala House Courts passed the order on NIA's plea under section 33(1) of UAPA to attach the office, the report said.
"In view of the above reasons, the immovable property i.e. building office of All Parties Hurriyat Conference situated at Raj Bagh, Srinagar which was carlier used as a office of APHC is ordered to be attached. Necessary legal process be carried out in this regard," the court said.
NIA told court that the property is partly owned by Khan along with his associates.
The office situated at Rajbagh was used to strategize different protests, funding activities of stone pelting on security forces, recruiting of unemployed youths to carry out "unlawful activities as well as terrorist activities" to create an unrest Jammu and Kashmir to wage war against Government of India, according to the NIA.
It was submitted by Khan's counsel that the office was only partly owned by him whereas other co-owners were not given any notice before attachment, the report added.
Noting that the property was being used as an office of APHC, the court said that there are many other accused persons besides Khan who were affiliated to the office, who are also facing prosecution in the matter.
The court also noted that the evidence collected during investigation was duly examined at the stage of framing of charge by a predecessor court which concluded to frame charges against Khan and other accused persons, according to the report.
"In that process it is needless to observe that in case any other person who claims to be co-owner and consider that such process of attachment is not proper, can avail legal right in accordance with law," the court said.
According to the report, the court said that attachment of a property in itself does not amount to any bearing upon trial and that the cannot be in any manner be considered as "pre-trial conclusion" or findings of punishment or offence against the accused.
"It simply means the property of the accused which may like to be forfeited to the State in case of him being convicted of offence of terrorist activities," the court said.
It also said that section 33 of UAPA does not hinder the powers of court to attach any such property which may be partly owned by accused.
"In such situation taking into consideration the serious nature of the allegations as against A-5 itself (Khan), the fact that he is part owner of the property in question, cannot be a reason for not attaching the property when it is not even made clear as to who others were co-owners of that property," the court said. (Courtesy: LiveLaw.in)