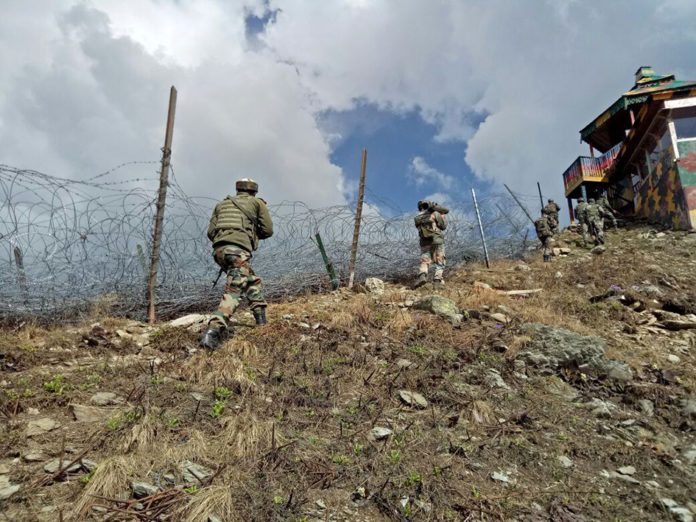 Poonch, Jan 8: Army on Sunday said to have foiled an infiltration bid by killing two militants, as part of its 'Balakote Operation', in Poonch sector.
"On 07 January 2023, at approximately 1900 hrs own alert troops observed suspicious movement of two infiltrators who were trying to sneak across Line of Control, in Balakot Sector in District Poonch", Brigadier P Acharya, Commander 13 Sector RR briefing a presser said.
"The troops on Line of Control and fence were alerted and kept observing the area and at approximately 1945 hrs, there was a loud explosion due to mine having got initiated by infiltrating militants", the army officer said, as per GNS adding "Thereafter at approximately 1950 hrs own troops saw the movement near the fence and engaged the militants by aiming fire onto them."
"Once the firing ceased, our troops on the fence and troops on Line of Control readjusted the cordon to prevent their (militants) escape with night enabled Quadcopter and other surveillance devices were employed to keep a strict vigil on the cordoned area."
"Troops commenced search operation at 0200 hrs on 08 Jan 2023. The search was very deliberate as the area is not only undulating with dense undergrowth but is also heavily mined. In the search so far two bodies have been recovered with weapons, magazines, ammunition and other war like stores", the army officer said informing further "Army has recovered one AK 47 Rifle, one modified AK 56 Rifle, One Chinese Pistol, two Chinese hand grenades and two high explosive IEDs and a mobile phone till now."
"The search operation continues in the area", the officer said further.