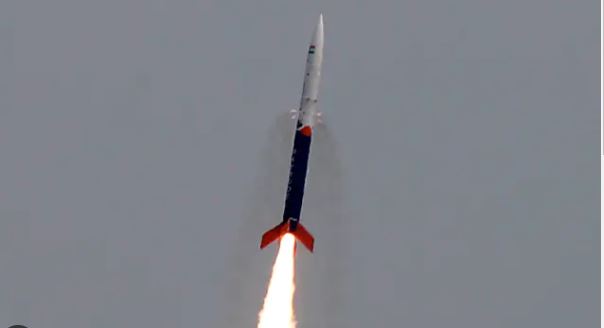 Srinagar: Indian Space Research Organization (ISRO) successfully launched the first ever India's maiden private Vikram-suborbital (VKS) rocket from Sriharikota. 
The sub orbital rocket was launched from Satish Dhawan Space Centre and reached at an altitude of 89.5 kms with a pay load of 83 kilograms.
Union Minister Dr Jitendra Singh, who was personally present at the launching site, said that this was a major milestone in the journey of ISRO, after Prime Minister Modi unlocked the Space Sector in 2020 for private participation.
ISRO said, "Mission Prarambh is successfully accomplished", while the Skyroot Aerospace said, "Vikram-S makes history as the first private rocket of India to grace the skies"
Union Minister of Science and Technology and MoS PMO, Atomic Energy and Space, Dr Jitendra Singh personally witnessed the momentous occasion from Sriharikota, Andhra Pradesh.
In his brief congratulatory address to the Team ISRO and Skyroot Aerospace, an Indian Space-Tech StartUp, Dr Jitendra Singh said, "A Historic landmark under PM Narendra Modi! A turning point for Indian Start-Ups! A new beginning for ISRO" as the first ever private Rocket "Vikram-S" is in Space.
Dr Jitendra Singh informed that Vikram-S is a single stage fuel rocket meant to test most systems and processes in Skyroot Aerospace's project ahead of the launch of Vikram-1 next year. He said, the rocket goes to the max altitude of 81.5 kilometres and splashes into the sea and the overall duration of launch is about 300 seconds only.