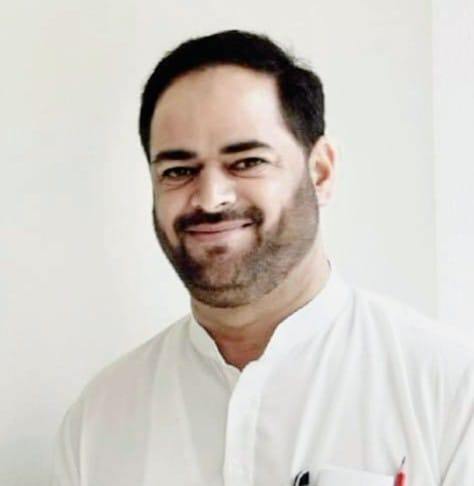 Baramulla Nov 16: Stating that Congress Party is ready to face the challenges and defeat the falsehood of BJP and its offshoots, J&K Pradesh Congress Committee President Vikar Rasool Wani slammed the Centre Govt for doing misleading politics inorder to hide its failure on all fronts.
Wani was addressing workers' convention in Dak Bunglow Baramulla in which senior Party leaders of JKPCC and DCC Baramulla were present.
Addressing the convention, JKPCC President Vikar Rasool Wani described Congress as an instrument of service to the people, and said J&K has witnessed ugliest situation due to wrong policies adopted by the Modi Govt. He  expressed serious concern over the rising unemployment, lack of development and depressed economy confronting people of J&K while lashing out at the unprecedented price hike and other failures of Govt which is responsible for making living condition of people difficult, he said.
JKPCC President slammed the Centre and State Govts for failing to mitigate the sufferings of the people with regard to their development, employment generation and many other issues, though tall claims are being made on daily basis for local consumption, but the reality is BJP has failed to restore the confidence amongst the people given its false promises and failures on all fronts.
JKPCC President also blamed BJP Govt and its offshoots for doing misleading politics in order to hide their failures on all fronts.
Wani also asked BJP to stop targeting Congress Party aiming to hide its failures on all fronts while advising both Centre & State Govt to take effective measures to address the concerns of people, who are suffering badly in absence of the popular Govt, he added and demanded restoration of full Statehood and holding of assembly elections to ensure that people's voices are heard and their grievances addressed, he said. People are feeling disheartened and dismayed over the BJP Govt' indifferent attitude and false promises, JKPCC President rued.
Wani who was addressing his first ever workers convention in Baramulla after taking over as President of JKPCC asserted that Congress will emerge stronger, it will be his endeavor to reach nook and corner in both the provinces to boost the morale of the party cadres.
Those who were present included Amir Khan, Irfan Naqshbandi, Abdul Rashid Dar(Sangrama), Dr. Gh. Mohi U Din Bhat, Shameema Iqbal,Bashir Ahmad Sheikh, Hilal Ahmad Wani, Gulsher Khan, Bashir Ahmad Khan, Er. Muzffar Dar and others.