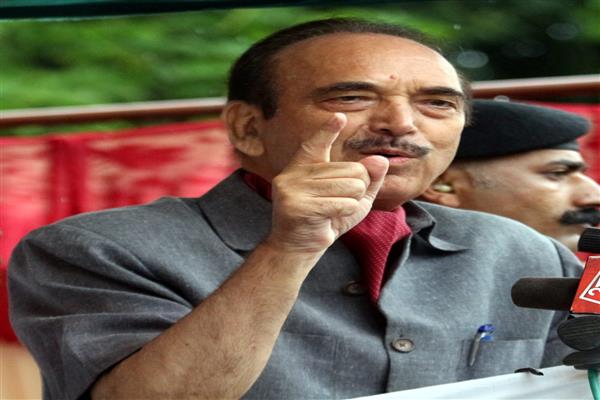 Baramulla, Nov 12: Thousands of Democratic Azad Party (DAP) supporters on Saturday gave a rousing reception to the Chairman, Democratic Azad Party Ghulam Nabi Azad in north Kashmir's Uri.
At the occasion, the form chief minister J&K, Ghulam Nabi Azad spoke about the over all upliftment of the down trodden and promised a fair and equal development and participation of Gujjar, Bakerwal and Pahari communities.
He recalled the days when Uri was devastated by earth quake and it was his personal efforts that brought comfort to the residents of entire region of Uri. He promised to take all his dream projects to their logical conclusion if elected to power.
Azad stressed the need of strengthening the health care infrastructure and also explore the possibilities of upgrading the work culture as it used to be during his Chief ministership in J&K earlier.
Other senior leaders who spoke at the occasion included Taj Mohiuddin, G.M.Saroori and Peerzada Mohd Sayed.
"I am sure that if we are voted to power, our land and job rights shall be restored and protected. The honour and dignity of each one of us will be ensured." Said Azad.
Other senior leaders who shared the dias included Taj Mohiuddin, G.M.Saroori, Peerzada Mohammad Sayed, Shuaib Lone, Abdul Ghani Khan, Mohd Sayed Shah, Aamir Rasool, Khalid Tufail, Omar Kakroo and other senior members of the party.