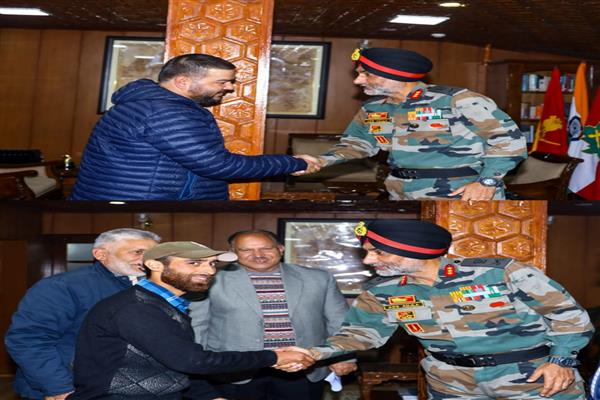 Srinagar November 7: The representatives of land owners of Karewa Damodar (Old Airport) along with some prominent social activists met with GOC 15 Corps Lt Gen ADC Aujla in Srinagar on Saturday and apprised him about the problems faced by affected families who land has been acquired by Defence Estates Department around 8 years back but payment is yet to be released.
A delegation of land owners and social activists led by Dr Raja Muzaffar Bhat met with GOC 15 Corps Lt Gen ADS Aujla at Chinar Corps headquarters on Saturday. President of Zamindar Committee Karewa Damodar Shabir Ahmad Sofi , Vice President Mohammad Ameen Kuchay along with prominent RTI activist from Budgam Mushtaq Ahmad Lone were part of the delegation.
" We had a very cordial meeting with Lt Gen Aujla and he gave us a very patient hearing and on spot took up the matter with the Defence Estates Department. He assured that farmers whose land has been acquired will be compensated suitably soon and he would call a meeting on this issue with the concerned officials. We also requested him to rehabilitate the families of most affected people who lost their land " said Dr Raja Muzaffar
It is pertinent to mention that land measuring around 3879 kanals of land located around Old Airport Srinagar also called Karewa Damodar which belongs to around 500 plus families of Wathoora , Kralpora , Buchroo , Rangreth , Gogo and many other adjoining areas of Budgam district.
The affected families have been waiting for compensation for the last 8 years as their land was acquired by the Defence Estates Department for the Army. Prior to 2013 the land owners were paid annual rent by the Army through Defence Estates Department from 1957 and around 2013 Govt decided to acquire the said land which is already in possession of the Army.
"The Deputy Commissioner Budgam directed the Defence Estates Officer -DEO Kashmir Zone through his official communication dated 11.07.2015 to make a payment of Rs 690 crores so that the same would be disbursed among the affected farmers and landowners. This was mutually agreed upon but eight years have passed since, and the payment is yet to be disbursed " said Shabir Ahmad Sofi President of Zamidaran Committee Karewa Damodar
" The case is in its final stage and matter is said to have been resolved by the DG Defence Estates Department and the Union Cabinet, but as we farmers have no access to this high profile office , we are unaware when the payment will be released . The GOC Chinar Corps Lt Gen Aujla has now given us a hope and we are sure 500 plus families will get justice soon " Dr Raja Muzaffar added. kns