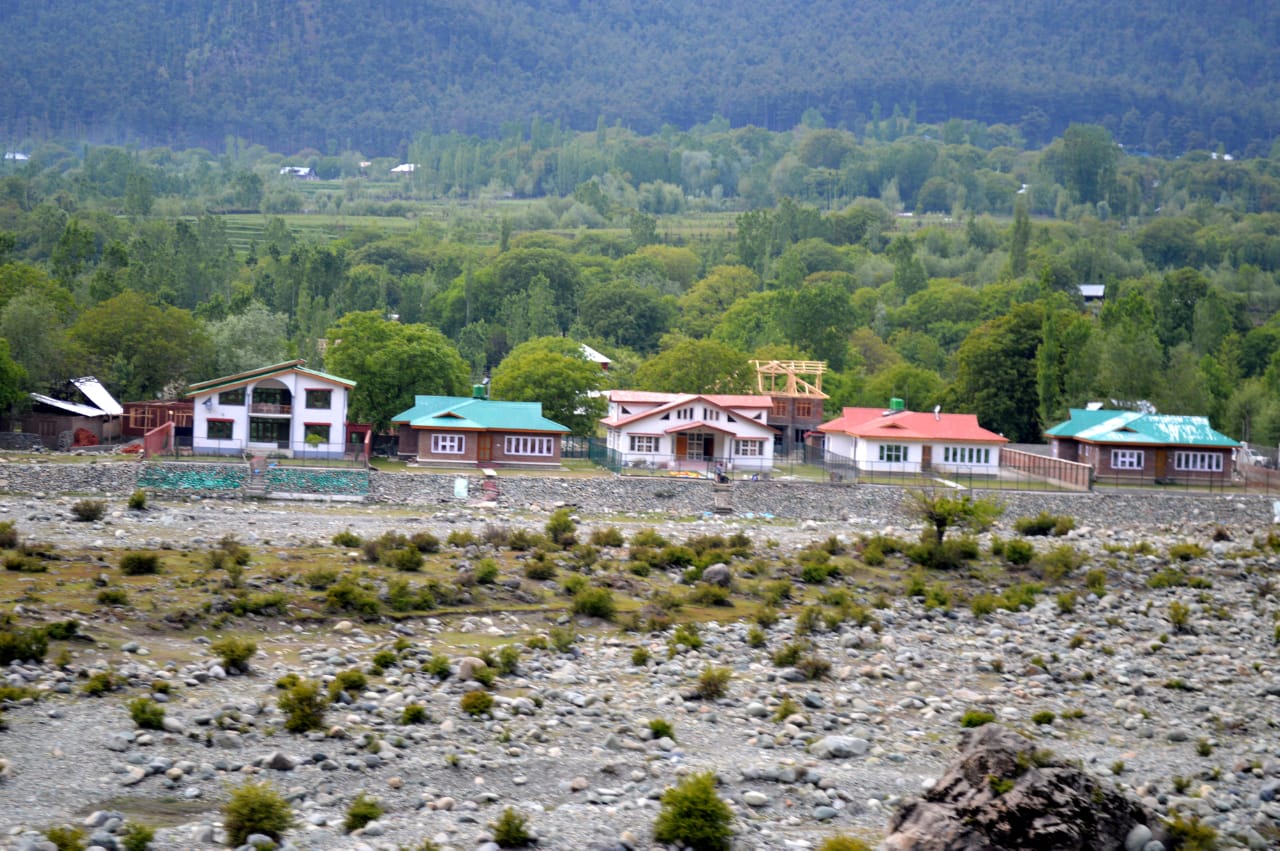 Pahalgam, Oct 29: The people of nine villages in Pahalgam area of South Kashmir's Anantnag district are up in arms against the administration for not allowing them to carry minor repair work of their old huts while as influential people are constructing hotels at their will.
Locals said that hundreds of families in these areas including main Pahalgam, Ganeshbal, Rangward, Mandalan and its adjacent are living in single rooms for the last many decades and since then they have been waiting to carry out construction work.
They said hundreds of houses are about to collapse but authorities aren't allowing to carry out any kind of construction or repair work.
They alleged influential people from other areas are being allowed and it seems restriction is on construction of locals only.
"We have been waiting to get permission since last several years but due to unknown reasons, our files aren't being cleared," they said. Numberdar of Pahalgam said  that it is poor people who are suffering while rich are spending money and getting permissions.
"It is our own land. If we won't be allowed to carry out the construction where will we go," he said, adding that the government must either allow locals to carry construction after proper inspection or provide any other land where they can construct their houses.
He said that government must constitute an independent team to check whether the demands of locals are genuine or not.
Locals said that toll post is another curse for them as they aren't being allowed to take single cement bag or brick here.
They said that if article 370 was revoked, can't government revoke the high court order and allow locals to carry out necessary construction.
Notably, in response to public interest litigation (PIL), the High Court in Pahalgam fully banned the construction and upkeep of both commercial and residential structures in 2010 and mandated the creation of a new master plan after determining the previous one to be inadequate.
Locals requested LG to personally intervene in this regard and high court order and toll charges must be revoked for local residents only.
Meanwhile, Chief Executive Officer Pahalgam Development Authority Masrat Hashim said that these allegations are baseless and it is all propaganda.
"Anyone can go through minutes of 12th BOCA and find how many permissions for locals and Srinagar residents were cleared," he said. "Our biggest achievement is 43 cases of PMAY and in last 10 years just 05 such cases were cleared. In the BOCA meeting which was held around 15 days ago, 130 cases of PMAY were discussed."
He said that among 215 cases 180 were of locals. "The allegations that permissions are being given Srinagar not locals is baseless and it is all propaganda. 90 percent permissions were given to locals and 10 percent to non-locals and we can't refuse to anyone who completes all formalities whether he is local or no," he said. "The residents should point out where more permissions have gone in favour of non Pahalgam residents."kno