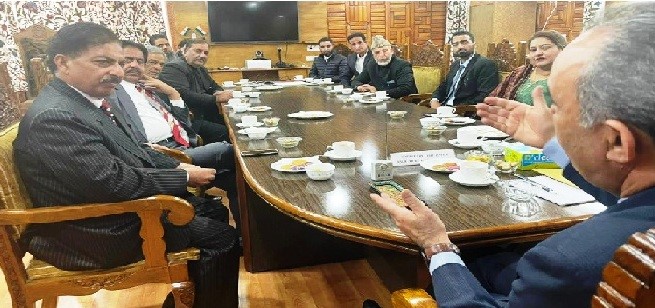 Srinagar, Oct 24: Advocates of several Bar Associations, including District Bar Association, Baramulla; Bar Association Sumbal; Bar Association Pattan and Bar Association Pampore called on Chief Justice of High Court of Jammu & Kashmir and Ladakh, Justice Ali Mohammad Magrey.
At the outset, the advocates congratulated Justice Marey for assuming the office as 35th Chief Justice of the High Court of Jammu & Kashmir and Ladakh and extended their best wishes.
The advocates during the interaction with the Chief Justice also apprised him regarding some of the issues & demands pertaining to Bar Associations.
While assuring them that all their genuine demands will be redressed, the Chief Justice also stressed on them to make best use of facilities available in courts and ensure Justice to the public.
District Bar Association Baramulla and others assured the Chief Justice that they will work with zeal and dedication to ensure proper legal assistance to needy people.