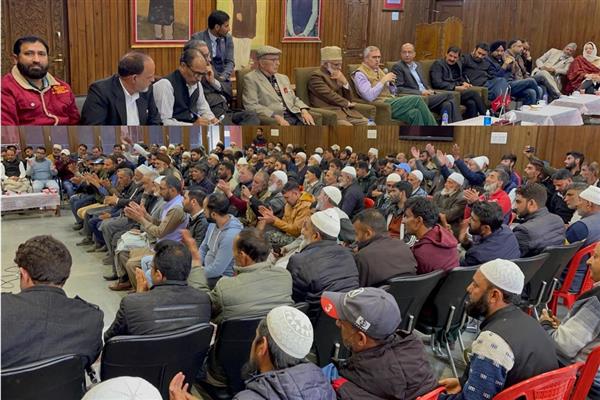 Srinagar October 20: The Jammu and Kashmir National Conference Party Vice President Omar Abdullah today presided over a block committee meeting of Kupwara constituency at party headquarters Nawa-e-Subha, Srinagar.
The meeting was marked by the threadbare discussions on organisational issues, and prevailing political situation in Kupwara constituency. The block committee members also raised a number of other issues concerning the people in the constituency. Issues like unemployment, farm distress, plight of horticulture sector, development deficit and administrative inertia also marked up in the meeting.
Among others General Secretary Ali Muhammad Sagar, Addl General Secretary Sheikh Mustafa Kamal, Provincial President Nasir Aslam Wani, Treasurer Shammi Oberoi, Senior Leader Mir Saifullah, Provincial Secratary Showkat Ahmed Mir, District President Kupwara Qaisar Jamsheed Lone, Deputy Political Secretary to VP Mudassar Shahmiri were also present on the occasion.
Calling for synergized efforts to defeat the forces contriving against NC, Omar said, "Our workers, block presidents, delegates, and cadres have to work unitedly and not confine their activities to their native constituencies, they have to lend a helping hand to their colleagues in other constituencies. The prevailing situation demands unity from us. Therefore, there has to be united efforts to defeat the designs of BJP and its local cronies," he added.