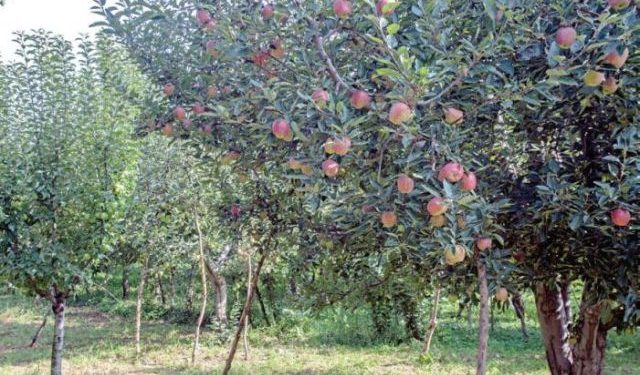 Srinagar Sep 25: Fruit association Sopore, shutdown has asked apple growers to slow down the Harvesting of apples from Orchardists as they say many fruit laden vehicles are stuck on National Highway from many days. .
In a video message, chairman Sopore Fruit Mandi, Zahoor Ahmad bhat said that from past 8-10 days thousands of fruit laden trucks are stranded on srinagar-Jammu national highway and not going through causing massive losses to growers, buyers across kashmir valley.
"We are urging all fruit growers of Kashmir Valley that slow down the process of your apple harvesting, to avoid the more losses," he said.
The harvesting season peaks during the last days of September and beginning of October. "We still have around 8-10 days of time where we can wait for harvesting," he said.
"We are also requesting growers, that do not dispatch fruit boxes to fruit Mandies, as there are already huge number of boxes unattended in fruit Mandies," he said. "We are hopeful after the government issued advisories, but we don't see them being implemented on the ground with spirit," Bhat said.
Reacting to the continues blockade of national highway, All valley fruit Association also decided to announce the shutdown of fruit Mandies across Kashmir, on October, 25, 26.
Notably, the Apple industry, worth Rs 8000 crore, is the backbone of Jammu and Kashmir's economy. As many as 3.5 million persons are directly or indirectly dependent on the apple trade, contributing about 8% to the region's GDP.
The fruit growers and traders, however, have faced multiple drawbacks since 2019 due to political turmoil and the outbreak of the COVID-19 pandemic.kns