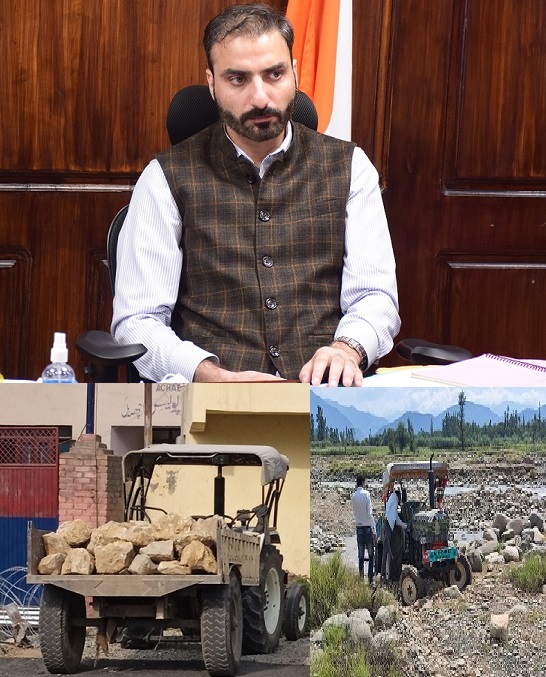 ANANTNAG, SEPTEMBER 24: Tightening noose against the illegal mining operations in the district, the District Administration Anantnag has seized more-than 72 vehicles/machines and realized a fine of Rs. 10.64 lacs from violators from August till date besides lodging FIRs against habitual offenders.
Further, vigilance activities in the form of surprise inspections and road nakas are being employed as effective tools to deter illegal mining operations.
District Mineral Officer Anantnag said that on the directions of Deputy Commissioner Anantnag, the department has intensified vigilance operations.
He said that in collaboration with police department, the vehicles were seized during 53 continuous seizure drives/nakas conducted/laid during day and night hours in the Damjan, Checki Rajwali, Nassu, Mehmoodabad, Dooru, Kokernag, Dehruna, Kandikoot, Larkhipora and other areas of Sandrani and Bringi Nallah besides Nakas/seizure drives in the Donipora Sangam, Guree, Zirpara Bijbehara, Waghama, Qazigund, Khanabal, Vessu, Mirbazar, Wanpoh and various other areas of the District.
The Deputy Commissioner Anantnag, Dr Basharat Qayoom, said that during the previous month, due to the persistent efforts of DMO Anantnag and his team around 72 vehicles including 3 JCBs, 20 dumpers, 23 tippers and 26 tractors were seized. He said that Rs 10.64 lacs have been realized from violators as fine and cost of minerals.
He said that vigilant monitoring shall continue to minimize illegal mining in the district.