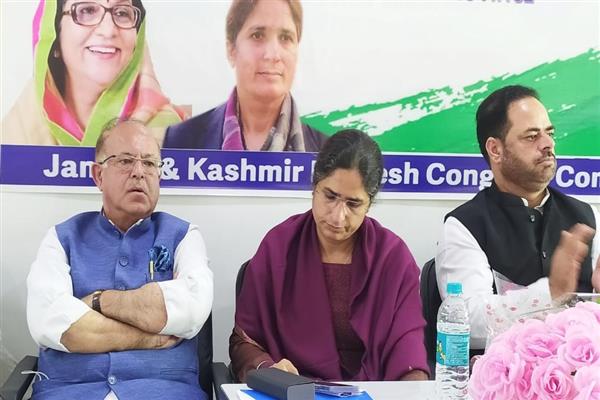 Srinagar, Sep 20: Congress party today held an extra ordinary meeting of Kashmir Chapter of its JKPCC elected members in its Srinagar Head Quarter at Maulana Azad Road.
In the statement, the party said that the meeting was presided over by Ranjit Ranjan Member of Rajya Sabha and Pradesh Returning Officer for Jammu and Kashmir and Ladakh. "Apart from other senior leaders the meeting was attended by Rajni Patil, incharge J&K, Tariq Hameed Karra, Vaqar Rasool, Raman Bhalla and G.A.Mir in which two politically significant resolutions were passed," it said
"One authorising Congress President to nominate anyone to run for AICC presidential polls moved by Ranjit Ranjan and the other for requesting Rahul Gandhi to accept the presidential responsibilities. Both the resolutions were passed by voice votes," the party said.
Speaking on the ressolutions, Former Member Parliament and CWC member Tariq Hameed Karra said, though delegates all over India are desirous of that Rahul Gandhi should takeover as Party President, but this is also a fact that Gandhi has grown much above the President's post.
He has emerged as a real leader in its true manifestation. His Bharat Jodo Yatra from Kanyakumari to Kashmir is not for the purposes of benefiting Congress party, but on the contrary it's being undertaken for cementing the fastly drifting apart country on religious, economic, social, cultural, ethnic, unemployment and women's abuse, Karra said.
Taking dig on LG's administration, Karra said that the whole country is being misled by parroting blatant lies of peace and normalcy. On one hand LG's administration and BJP is blowing trumpet of normalisation in J&K, but when it comes to elections the same trumpet blowers try to take refuge in saying that the elections shall be held at an appropriate time after normalisation of the situation, thereby admitting that the normalisation is yet to return. And everyone understands that their slogan mongering is just a facade.
"Karra also highlighted the issues regarding fruit growers, agitating youth regarding their cancelled results of selected lists, agitating employees, arbitrary harassment and arrests of religious scholars, ever increasing sense of insecurities amongst religious minorities and ever increasing despair amongst unemployed youths," it said.(KNS)