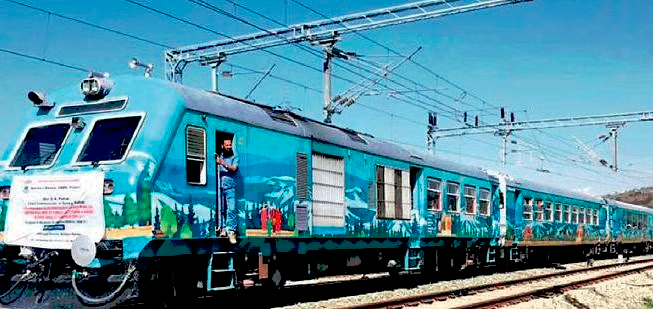 Srinagar, Sep 13: Electric train for 137-kilometer long Baramulla-Banihal railway corridor is all set to be inaugurated on October 2 with the work going on at full swing.
The Jammu and Kashmir government, Indian Railways and Indian Railway Construction Company Limited are working together on this project since August 2019.
"The PCEE inspection of the project will be conducted on 26 September, 2022 and on October 2, the project will be inaugurated," Additional General Manager, Indian Railway Construction Company Limited Abid Amin Shah said.
He said the total project cost is 324 crore and the Budgam-Baramulla section is already complete while the inspection of Budgam-Banihal section will be conducted on September 26 and it will be inaugurated on October 2.
"Railways Department has already conducted three to four trails from Budgam-Baramulla while trails of Budgam-Banihal will be conducted from 20th of this ongoing month," Shah added.
According to him, the total route length for electrification is 137.73 kilometers with three main sub-stations of Qazigund, Budgam, and Baramulla from where power will be supplied to the overhead equipment of the rail line.
"The project is all set to reduce the pollution and also saves 60 percent compared to the use of fuel," he said.
Along with this, work is going on to link Banihal with Katra. When the Katra-Banihal link will be completed, Kashmir will be better linked with the rest of the country. It may be recalled that in 2013, Kashmir got its first train service when it was inaugurated by then Prime Minister Manmohan Singh.kno