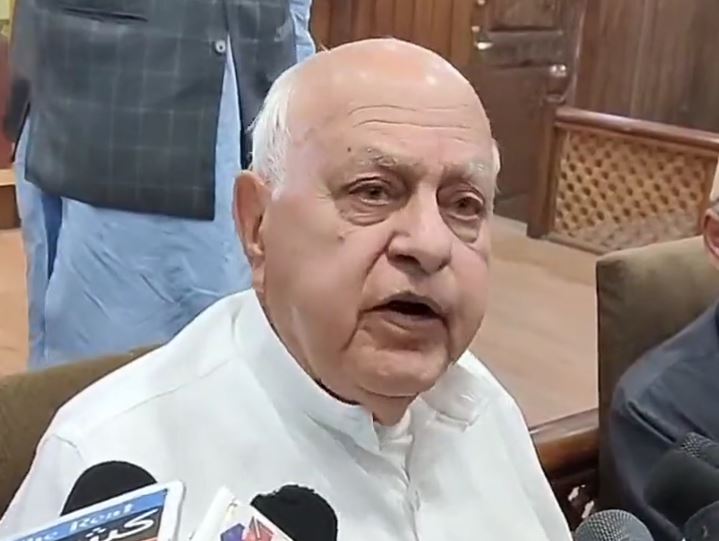 Patnitop Sept 11: The Jammu and Kashmir National Conference President and MP from Srinagar Dr Farooq Abdullah asked people to remain vigilant against divisive forces who are hellbent to drive a wedge between communities.
This he said while interacting with party workers from Ramban, Batote and other adjoining areas at Patnitop late Saturday evening.
In his address Dr Farooq said, "The ruling party is not echoing the sentiments of the diverse sections of people in Jammu. People in Jammu, Chenab, Pir Panjal are feeling cheated. A dangerous game of polarization is being played with our people by pitching one community against another. All they want is to divide us on emotive issues. We all have to resist such attempts to divide us. Our unity will not allow them to triumph in their nefarious designs."
He further added, "Jammu is a perfect example of communal harmony, the need of the hour calls for strengthening it. The region has already lost eight years to lingering misgovernance and political instability induced by those who used to do chest-thumping over the so called discrimination meted out to Jammu people. Where are they now? Aren't the miseries of our thousands of unemployed youth in Jammu visible to them."
Their real face stands exposed in front of people, Dr Farooq said adding, "Their report card for the past eight years only recounts failures on every front, be it development and employment generation. Each failure is bigger than the other. All they have done is poison the life of Jammu people with inflation, tax hike, toll plazas, outsourcing of mineral contracts and jobs, inclusion of outsider voters and poor recruitment process for youth. Our brothers and sisters want an end to this. They are equally concerned about the future of their children, and their identity."
He said the fear of Losing Identity, Land Rights has gripped Jammu residents, and rightly so. "People who come to me from the Jammu region say that their identity is being bulldozed. They say that their business, trader and land rights are being curbed by allowing big retail players a free hand to establish their bases in the region," he added.
He further said that NC will continue to fight for the protection of identity of Dogras, Kashmiris, Gujjars , Paharis and others. "We aren't fighting for any particular community. Our battle is blind towards religious and regional considerations. We are equally concerned for the dignity of the last person living in Kathua, as we are for others living in Kishtwar, Rajouri, Basoli, Srinagar and Kupwara."
Exhorting the permanent residents of J&K to register themselves as voters, he said, "What they are doing now is to bring outside voters to help them sail through. This looming onslaught can only be stopped by our people by voting in large numbers against those who have destroyed the very historical character of our region. You all have to register and vote in huge numbers. This time your vote will be for your identity, your future, your culture."
Provincial President Jammu Rattan Lal Gupta, MP Hasnain Masoodi, Senior leader Sajjad Ahmed Kitchloo, District President Ramban Sajjad Shaheen, YNC Provincial President Jammu Ajaz Jan, Chaman Lal, Jagveer Dass youth District President, DDC Ramban Shamshad Shan, Abid Magary VP, Arif Mir Secretary, Arif Wani, Raja Arshad Ali, Adil Ahsan, Arjun Singh Raju, Murtza Ali, Mushat Lone, Mahraj Khan, Sharad Nattno BDC and others were also present on the occasion.