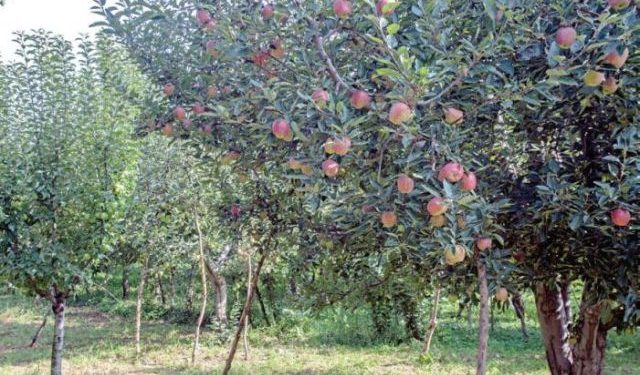 Srinagar, Aug 27: Premature fruit fall has hit apple orchardists in different areas of Kashmir which is going to affect the annual turnover, the Kashmir fruit growers and orchardists said Saturday.
Orchardists from various areas of Kashmir said that there is premature fall of apples across Kashmir which will lead in losses to growers due to which they are very much worried.
Mohammad Ashraf, a grower from Pulwama said that Harvesting for Kulu delicious and delicious varieties of apple begins from 15- 25th of September. "But this year, fruit starting falling prematurely from June of this year and around 10-20 percent crop suffered premature fall at several spots while season is yet to start," he said.
He said that they were expecting a yield of around 400 boxes but around 60 boxes fell prematurely affecting already while season will start at least after two weeks.
Another grower from Bijbehara said:  "This unripe fruit fall will definitely lead to losses to the growers who have already suffered losses in last few years due to Covid-19 and untimely snowfall and hailstorms."
He said that if unripe fruit fall continues we won't be even able to fetch the amount what we spent on fertilizers and pesticides.
Fruit growers said that they are unaware about the reasons behind the fruit fall, however, every morning we visit to our orchards where we find dozens of apples under each tree.
Experts attribute multiple reasons to the fruit fall including climate change resulting in stress caused by incessant rains followed by heat. Also, they said spraying plant growth regulators besides improper irrigation and nutrient management are other possible reasons.
They said that due to leaf miner and other diseases, leaves of the apple trees got damaged and fell which has also effected the fruit and resulting in premature fall.kno