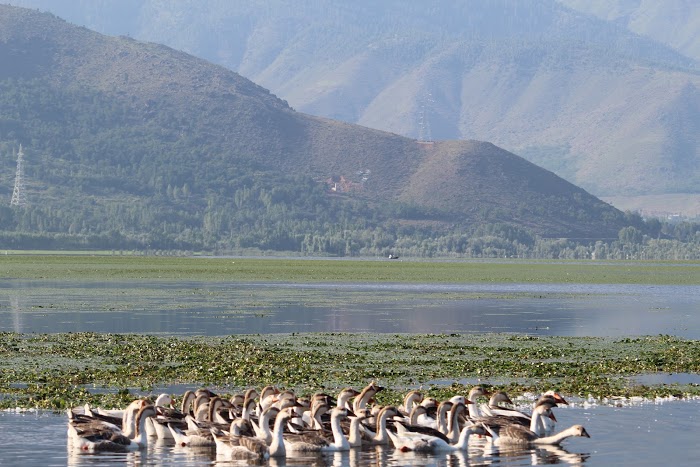 Bandipora, Aug 26: Although Asia's largest freshwater Wular Lake witnesses a festive look these days with a large number of boatmen extracting chestnuts from it, however, the extractors are also complaining that chestnut extraction is witnessing a huge decline for the past few years.
Several areas including Kulhama, Lankreshipora, Suderkoot, Kanibath, Keema, Zurimanz areas of Bandipora district are the main supplier of water chestnuts to the Kashmir valley.
As the chestnut extraction season has begun in the Wular Lake, the villagers take out the nuts from the lake and supply it to the vendors in Kashmir and outside.
According to official figures, the lake used to produce around four metric tons of water chestnuts annually and 5,000 tons of fish of 11 different species each year.
"As compared to the past, chestnut turnout in Wular has gone down considerably. A few years ago, I used to take out about 50 kg of chestnut from the lake every day but nothing like that is happening now," Mohammad Ramzan Pinchoo, who has been involved in the chestnut extraction for the past 50 years, said.
He said that 20 kg is the maximum a person can get now.
Similarly, Abdul Aziz, an elderly man from Lankreshipora said that earlier a person could collect a boatful of chestnuts, about 50-60 kgs in a half day, but now, one can only dream of such a good harvest. The reasons for the lake's decline in chestnut harvest, Aziz believes, are encroachment, siltation, and unabated pollution.
"The villagers who live on the banks of the Wular Lake depend on it either directly or indirectly. For the past several years, we have been experiencing a huge decline in fishing and water chestnut harvest," Ghulam Nabi, another fisherman said.
He said that chestnuts are the main source of income for the majority of people living here and because of the decrease in it; many families will be directly affected.
According to a survey conducted from 2017 to 2018, the unabated pollution has resulted in the decline not only of native fish species but also of exotic production from the lake.kno