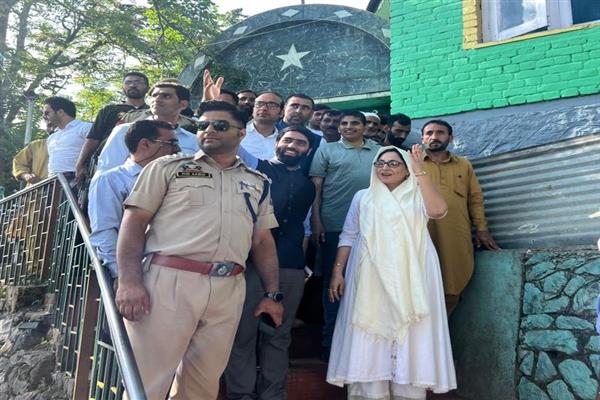 Sopore August 22 : Chairperson of Jammu & Kashmir Waqf Board, Dr Darakhshan Andrabi today visited the important spiritual destinations of North Kashmir Tujjar Sharief and Watlab.
She paid obeisance at the sufi shrines of Hazrat Makhdsoom Sahib at Tujjar Sharief & Baba Shukoor-ud-din at Watlab and took stock of the facilities for pilgrims and need for improving the management systems and the infrastructure at these shrines.
She held meetings with the Waqf Board staff and issued many orders on the spot.
"These shrines are our spiritual centres and we have to ensure the dignity of these shrines & the saints with whom these shrines are associated. The mass acceptance of our measures speaks volumes about the errors which existed within the system," said Dr Darakhshan.
She said that only a few people are opposing & shouting in the media against these moves to correct the errors because of their personal interests.
"Waqf is not for a few people but for all. Decisions to streamline Waqf working system have annoyed a few but assured the majority of accountability & we will not allow Waqf to remain a business enterprise for a selected few," said Dr Andrabi. She emphasized on the Waqf employees to dedicate themselves for service of the people.
"Waqf owns a big chain of schools & other educational institutions in J&K but the poor management & political interference in these institutions has left them in a very poor condition. Every year we have to bear around twelve crore rupees loss in running these schools in present poor condition. But we cannot allow the condition to continue. We are devising a mega transformation plan for our educational sector," said Dr Andrabi.
She appealed to the people from good economic backgrounds, corporate houses, and business houses to come forward to help the Board in upgrading Waqf education sector.
"In making Waqf an ideal organization, we require the support of everybody as this is a herculean task to cleanse the system so that we become resourceful enough to make Waqf self-sufficient & empowered enough to create public welfare projects in J&K within a few years from now," said Waqf Board Chairperson.