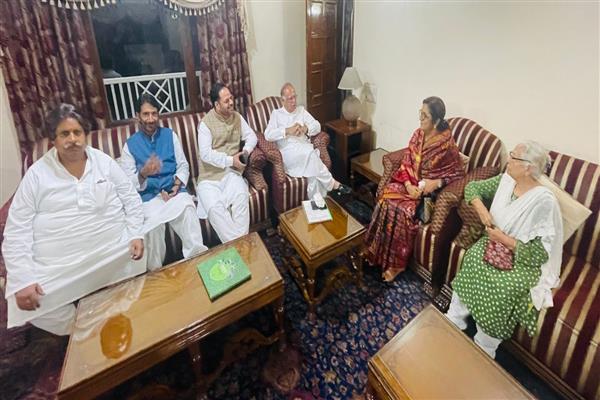 Srinagar August 21: The Jammu and Kashmir Pradesh Congress Committee on Sunday held its Political Affairs Committee meeting here in Srinagar. The meeting was briefed by AICC in-charge Jammu and Kashmir Rajani Patil where she shared valuable insights about the Committee and its establishment; it was chaired by its Chairman Tariq Hameed Karra.
The meeting was attended by members, Vikar Rasool wani, Raman Bhalla, G.A Mir, Peerzada Mohammad Sayeed, Khemlata Wakhloo and i Saif-ud-Din Soz, who conveyed his agreement to the deliberations made in the proceedings telephonically to Tariq Hamid Karra, as he couldn't physically attend the meeting due to his ill health.
After Rajani Patil's briefing about the Udaipur Declaration and the establishment of the Political Affairs Committee, she highlighted major changes in the organisational set up of the Congress party.
The Chairman of the Political Affairs Committee, Tariq Hameed Karra deliberated the current issues pertaining to the people of Jammu and Kashmir.
Karra briefed the present members about the recent order of Chief Election Officer Jammu and Kashmir which extends the right to vote to 25 lac non local voters in Jammu and Kashmir.
Tariq Hameed Karra noted down every minute peril of this ominous step.
He explained the devastating results of the nefarious designs being enacted by "GOI through Chief Electoral Officer in Jammu and Kashmir by announcing the right to vote in J&K's Assembly Elections to non- domiciles including Army and Paramilitary forces personnel".
Karra said GOI was forced to evolve these novel and nefarious designs, only when they failed to implement their earlier nefarious designs for bringing demographic changes by way of colonization on non-locals.
The meeting concluded with the decision of sending the Jammu and Kashmir Pradesh Congress Committee Chief Viqar Rasool Wani and Jammu and Kashmir Pradesh Congress Committee Working President Raman Bhalla as the representatives of the party into the scheduled All Party meeting scheduled to be held in Srinagar on 22nd of August.