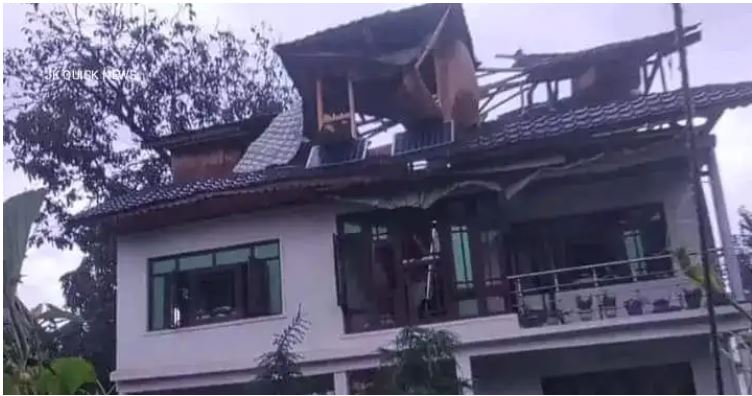 Srinagar, Aug 17: Police on Wednesday arrested three brothers of a militant and "started process" to attach their ancestral house in Shopian district of south Kashmir.
The police action comes a day after the killing of a Kashmiri Pandit and injuries to his cousin while they were working in their apple orchard.
"On 16 August, 2022 at about 11:00 a.m. two (militants) shot and killed Sunil Kumar Bhat son of Sri Ji Bhat and injured his cousin Pertimber Nath son of Arjun Nath Bhat at his orchard in Chotigam, Shopian," a police spokesperson said in a statement. Consequently, he said, a case (FIR No. 153/2022) under section 302 IPC, 7/27 IA Act and 16, 20 ULA(P) Act was registered in police station Shopian and investigation process was set into motion.
"During initial investigation, involvement of an active (militant), Adil Ahmad Wani son of Mohammad Khalil Wani of Kutpora surfaced," the spokesperson said.
Meanwhile, he said, an input was received by Police and SFs regarding presence of accused Adil Wani at his ancestral house at Kutpora.
"On this information police, 34 RR and 178 Bn CRPF launched a CASO in the area at wee hours on 17th August," he said, adding, "During search, (militant) lobbed grenade on the search party which was retaliated by search party. However, (he) escaped taking benefit of darkness."
Later on, the spokesperson claimed that the security forces found a hideout in the house at rooftop where arms and ammunition –one AK rifle along with a magazine and one pistol was found in the hideout.
"Consequent, upon this (militant) act, a separate FIR No. 154/2022 U/S 307 IPC, 7/27 IA Act 16,18,19,20 ULA(P) Act was registered on 17th August, 2022," he said, adding, "Three people were arrested in above case FIR for harbouring (militant), namely 1) Arif Ahmad Wani 2) Shabir Ahmad Wani and 3) Touseef Ahmad Wani sons of Mohammad Khalil Wani of Kutpora, Shopian and process for attachment of property as proceed of (militancy) has been initiated U/s 25 of UAPA, Act 1967."
He said that further investigation of cases was under process. A Special Investigation Team has been constituted, the spokesperson added.