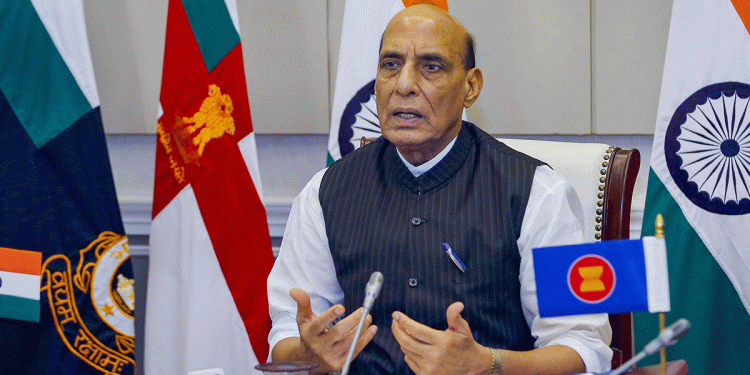 Jammu, Jul 24: Union Defence Minister Rajnath Singh Sunday said that India wanted friendship with the neighbouring country but Pakistan was behaving differently.
He said that post-independence, J&K became a "war theater" but due to the supreme sacrifices made by the soldiers and other security forces, all bids aimed at damaging India's integrity and sovereignty were foiled.
Addressing a function at Jammu regarding Kargil Vijay Diwas, Singh said that India has fast emerged as the world's best democracy and super power. Singh was in Jammu to commemorate the martyrs of Kargil War.
"We want friendship with our neighbor but don't know why Pakistan is behaving differently. Pakistan's behavior is totally different," Singh said.
He said that during the Kargil War, Pakistani intruders had sneaked into Indian territory, but when Indian soldiers launched their attack, Pakistani soldiers and intruders had to flee from Indian posts.
"Vikram Batra is a great hero of Kargil war. There are hundreds of heroes who laid their lives to protect the country during the Kargil war. I pray my rich tributes to all our martyrs who sacrificed their lives to push the intruder back to Pakistan," Singh said.
He said that even though Kargil was a limited war, previous wars were fought. "In all previous wars be that of 1961 or 1975, Pakistan tasted defeat," Singhs said. Talking about the China-India war of 1962,  Singh said that India hasn't healed the scars left by the 1962 war.
Singh said that today India is emerging as a fastest arms export country under the Prime Minister Narendera Modi's slogan of 'made in India, make for the world"
"We are spending 68 per cent of the total defence budget on manufacturing arms within the country," Singh said.kno