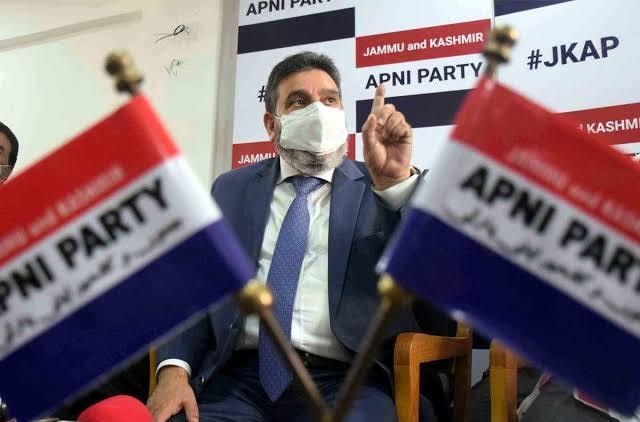 Handwara, Jul 23: Apni Party President Syed Mohammad Altaf Bukhari Saturday said that his party will ensure the restoration of statehood to Jammu and Kashmir within a year if the party is elected to power in the forthcoming assembly elections.
In a statement, he said, "The way we ensured an assurance from New Delhi on the protection of land and jobs for J&K people post-August 5, 2019; we will convince Central Govt to restore the statehood within a year after we attain people's mandate in the assembly elections."
Bukhari was addressing a public rally in Handwara town of north Kashmir's Kupwara district, where people and the party workers accorded a rousing reception to Bukhari and other party leaders.
In his speech, Bukhari said, "I feel utmost satisfaction to see people thronging into the Apni Party's public meetings, as it is a clear indication that people trust the party leaders. And, by attending our rallies people express their approval to our unambiguous agenda of the party."
Altaf Bukhari said that, unlike the traditional political parties, the Apni Party does not believe in the politics of deception.
He said, "We are God-fearing people and we have belief in the Hereafter, where Almighty will hold us accountable for all our doings in this world. Therefore, we do not dare to allure you with emotional slogans and fake promises. We promise you only what we can fulfill."
"You have relied on the traditional politicians all these years. But they breached your trust again and again. Their trickery politics eventually landed our youth either in jails or in the graveyards. But I promise you a better future because we believe in constructive politics. Apni Party is an alternative for you. I request you to give us chance to work for the peace, prosperity, and development of this land, and political and economic empowerment of its people." He added.
Apni Party President further said, "The Apni Party was formed when there was a chaotic situation and absolute uncertainty in J&K due to the August 5, 2019 occurrences. It was the time when people needed someone to take a lead and talk to New Delhi to ensure the protection of the rights of the people. We met Prime Minister, Home Minister, and other leaders in New Delhi seeking assurance that no demographic changes are done in J&K. We succeeded and got a clear assurance from the Centre."
"I assure you that we will continue endeavoring to protect the political rights of the J&K people when we are elected to power." He added.
Bukhari reiterated that the power consumers would be given free power up to five hundred units in J&K. He said, "As we have said time and again that if the Apni Party is elected to govern, it will give five hundred units of electricity free to the consumers of the Valley in winters and the same amount of free electricity to the consumers in Jammu during summers. And, 300 units free electricity to the people in Valley during summers and 300 units to the Jammu in winters."
"We have promised that our government would enhance the old age pension from the existing one thousand rupees up to five thousand rupees a month, and marriage from the existing fifty thousand to One lakh rupees to each beneficiary. Similarly, our government will provide an additional four refill cylinders to every household in J&K."
Bukhari expressed his sorrow about the infrastructure deficit in Hundwara. He said, "I was shocked to hear that some areas in Handwara are still facing water scarcity. It is shameful for the traditional political parties and so-called leaders who ruled J&K for years and decades that people do not have potable water available even after 75 years of independence."