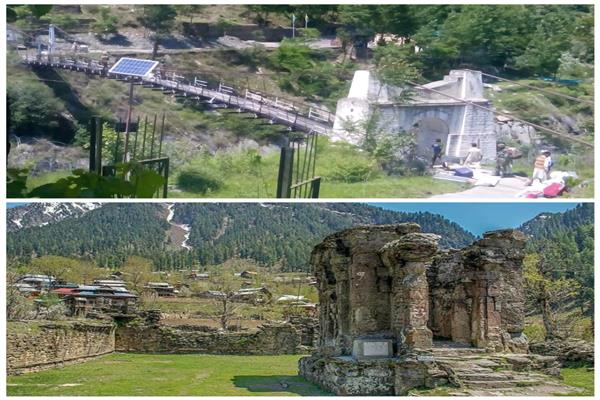 Kupwara, July 22: The construction. of Sharda Peeth Base camp and temple is going on in full swing in Teethwal along the Line of Control (LOC) in Kupwara district, officials said here on Friday.
An official said that around 70 percent work has been completed on the base camp and the temple.
He said that pilgrims used to go to the ancient Sharda Peeth temple, "which is currently in Pakistan Occupied Kashmir (PoK) through this route and perform religious the pilgrimage and other religious duties".
Notably, this place was the center of attraction for tourists from China, Japan, Sri Lanka, Thailand, Korea and elsewhere.
While the place of Sharda Peeth is the holiest place for the followers of Hindu religion, it is historically the prominent academic center of its time and is therefore considered the oldest university in the world.
The base camp lies in the Teethwal village along the Line of Control in Kupwara district and is 136 kilometers away from the traditional ancient Sharda Peeth Temple.
The construction of base camp and temple is being supervised by the founder and president of Save Sharda Committee Kashmir, Ravinder Pandita, while at the local level a committee has also been constituted, of which local Muslims are also a part and they are playing their role in the construction of the Base camp. kns