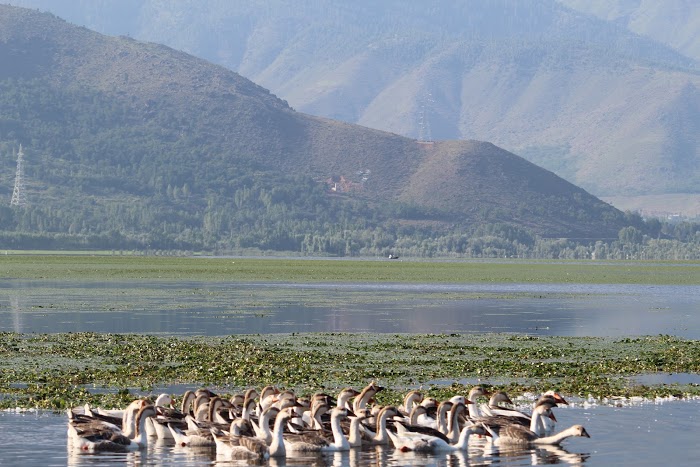 Srinagar, Jul 22: Climate change that is a long term shift in patterns of temperature and weather is fuelling a heat wave in Kashmir threatening livelihood of people.
Due to the heat wave, the farmers whose livelihood is dependent on the horticulture and agriculture sector are very much worried as a number of diseases have broken out in orchards and there is early leaf fall which is likely to affect fruits as well.
Experts believe that the effects of climate change are likely to increase in the coming time and there is a need to take adaptability measures to lower the effect of climate change.
Dr MRD Kundnagar, a noted environmentalist that climate change is a global phenomenon and the valley because of its geographical position is a victim of climate change in its neighbouring countries.
"The abnormal air temperature is indicative of the impact of Climate change. While analysing the water samples of some high altitude glacial lakes of the Valley the high content of Nitrate- Nitrogen and Phosphates is attributed to the climate change as such elements are easily absorbed by the waters from the nutrient clouds," he said.
"Nitrogen deposition from air pollution is increasingly reaching alpine lakes where the addition of nitrate and ammonium to sensitive surface waters can cause acidification and or eutrophication." He added.
Prof Mohammad Sultan, Head of Department Geography University of Kashmir said that climate change characterises  extreme events that means the areas which are facing extreme cold temperatures in winters may get warm and areas witnessing warm temperatures in summer may get warmer.
'We were witnessing heat waves in the past as well but climate change incidences are likely to increase as if we were witnessing heat waves in two years in a decade but it can happen in four years in a decade in coming and same can be the case with drought,  storms and uneven distribution of rains.
"In northern India including Kashmir the distribution of rainfall is now uneven as earlier there was rainfall of around 100 to 200 mm in around three summer months and it was beneficial for agriculture as well as for horticulture but we are witnessing same in just 10-15 days and rest 2 and half month remains dry due to which these sectors are getting affected," he said.
The rainfall variability is now very high and the quantum of rainfall comes in shortest span otherwise its spread was for around three months, he said, adding, rainfall variability leads to floods and our water resources including surface and groundwater are getting affected as well.
"Water is life and if water resources will get hit then it means everything is getting hit," he said, adding, "in order to reduce the effect there is need to take measures including mitigation and especially adaptability measures."
Mitigation measures are those measures by which we can directly reduce climate change that is reduction in emission of greenhouse gases but there is hardly any contribution of some areas including Kashmir in emission of greenhouse gases, he said, adding that mitigation measures at UT level cannot be so handy, however, at county level such measures can definitely contribute in reducing climate change.
"When you are already witnessing frequent climate change phenomena, you need to continue your day to day activity to earn livelihood, keep the economy going and in order to adapt yourself in such an environment there is need to take some measures, which are known as adaptability measures," he said.
There is a need to improve water conservation infrastructure as if we can save the rain water which we are getting in short span instead of months can be saved and utilized for different purposes whenever required, he said.
"We must use water judiciously and water rationing must be introduced in urban areas on priority. Water should be provided to people for two hours in the morning and two hours in evening so that there won't be any misuse of water," he said.kno