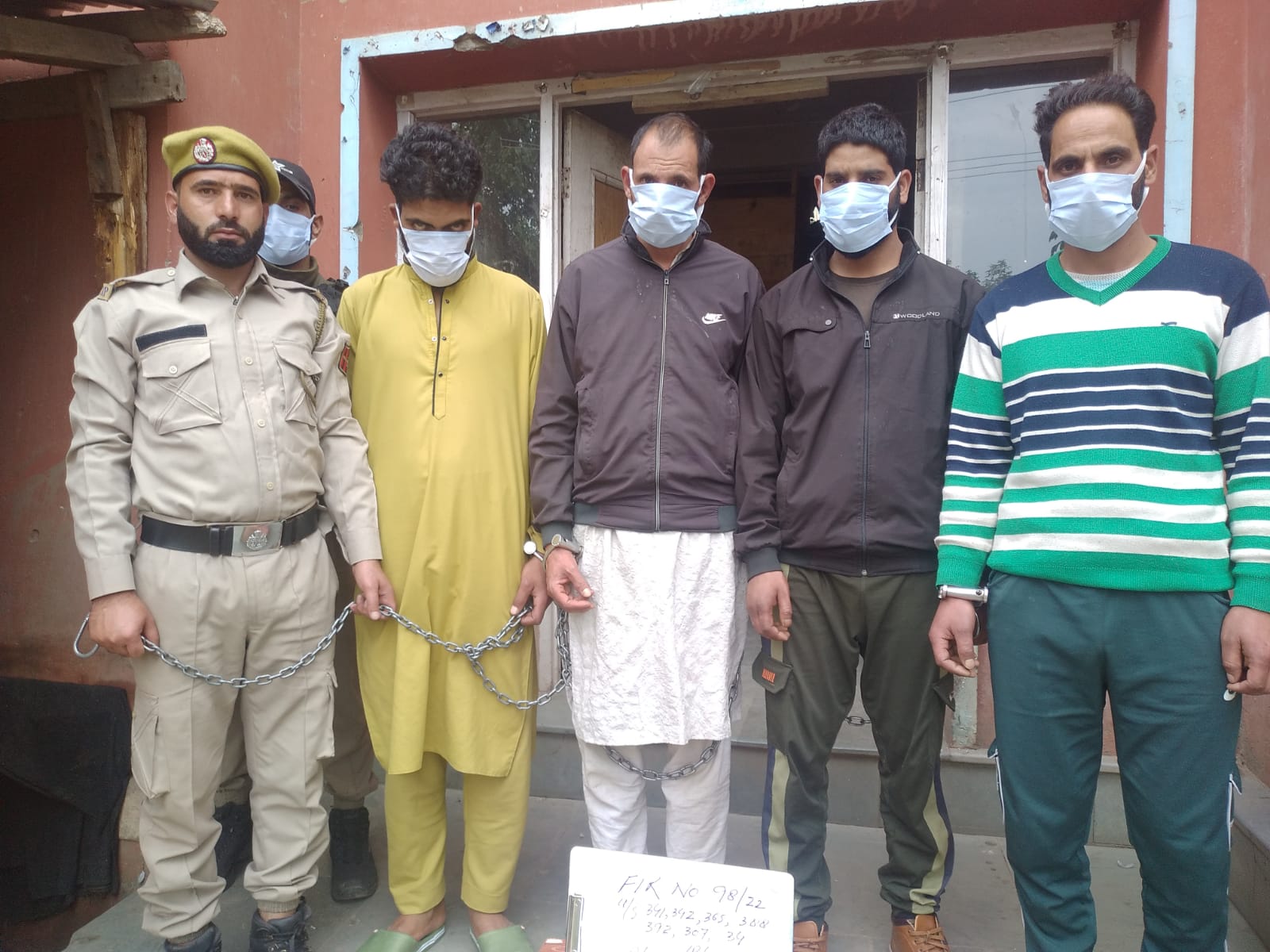 Budgam July 21: Police on Thrusday claimed to have busted a gang of Extortionists by arresting 5 of its members in Beerwah area of Central Kashmir's Budgam district.
In a handout, the police said that the modus operandi of the gang was to call some person(s) to their home and then put him under threat by pointing knives etc towards him and rob him of his belongings, adding, also capture a video of the victim with a lady who happens to be wife of one of the gang members and then start demanding money in lieu of threat of releasing the video of the victim with lady in comprising position etc.
The police spokesman further stated that a case FIR number 98/2022 under sections 341, 365, 342, 388, 392, 307, 34-IPC stands registered at Police Station Beerwah.
"Cell phone, Cash and other materials snatched from the complainant and Knives used to threaten the complainant have been recovered on instance of accused. Moreover Some cell phones of accused with objectionable videos/photos and other material has been seized in the instant case. All 5 accused in the case stand arrested," it said.
"The details of the arrested persons are Mushtaq Ahmad Bhat S/o Gh Nabi R/o HanjiGuru (house owner), Rouf Ahmad Dar @ Kantroo S/o Ab Rashid R/o Arizal, Mushtaq Ahmad Khan @ Jamal S/o Gh Hassan R/o Arizal, Farooq Ahmad Ganai S/o Ramzan Ganai R/o Kralnewa and Name withheld W/o Mushtaq Ahmad Bhat R/o Hanjiguru
Further investigation into the case is going on," reads the statement.