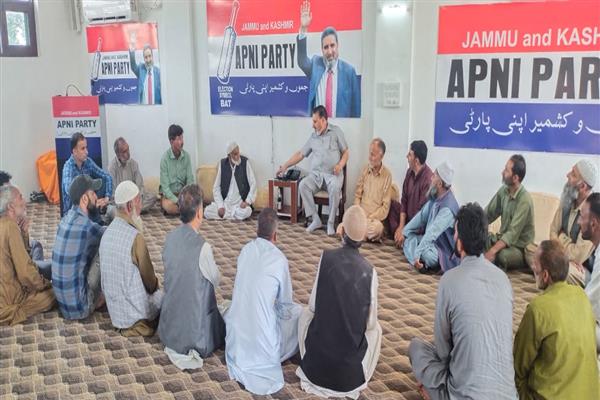 Srinagar July 19 : A public delegation from north Kashmir's Uri called on Apni Party President Syed Mohammad Altaf Bukhari on Tuesday to inform him about the infrastructure deficit and the various public issues that people of this far-flung area are facing.
According to a press statement, the Apni Party president gave a patient hearing to the visiting delegation and assured them that the issues they identified would be brought to the concerned authorities to ensure their quick redressal.
The delegation said that since Uri is the remotest region of the Valley, it has always been receiving the least attention from the administration in terms of developmental activities.
The members of the delegation said, "Even after seventy-five years of independence, Uri is still known as the least developed area of the Valley, where the population lacks even the basic amenities. We do not have sufficient infrastructure in the health and education sectors. Even the people in some areas do not get the proper supply of electricity and potable water."
"The areas like Ijara village in Boniyar Uri lack the telecommunication connectivity as the concerned telecom companies are yet to raise signal towers in these areas."
They complained that the political parties who ruled J&K over the decades have always been turning a blind eye towards the issues that people of the Uri are facing."
Bukhari assured the delegation that not only he would ensure the immediate issues are addressed by the concerned authorities as soon as possible, but if the people of Jammu and Kashmir elect the Apni Party to serve in government, it will ensure speedy developmental activities in Uri ensure people of this area are do not suffer anymore due to the lack of infrastructure and the basic facilities.
He said, "The Apni Party's key agenda is to ensure prosperity and development of each and every region of J&K. We are here to ensure the development of every region, and the prosperity of the people irrespective of what faith, caste, religious belief, and political ideologies they belong to."