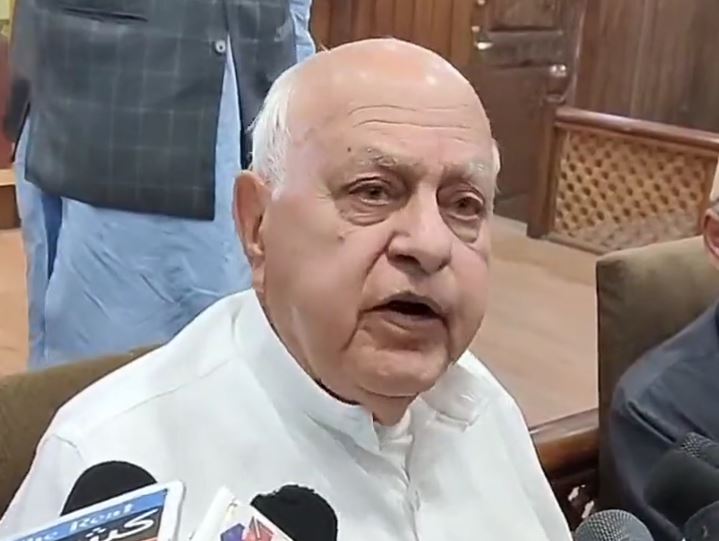 Srinagar, July 13:  Jammu and Kashmir National Conference president Dr Farooq Abdullah on Wednesday said that the caravan of militancy will not end in Kashmir unless the central government wins hearts of the people of Kashmir and engages in dialogue with the neighboring country.
Talking to reporters at party headquarters in Srinagar. , he said that militancy in Kashmir will not end unless the central government tries to win hearts of the people and engages in dialogue with the neighboring country. "I tell them it will never end unless you win the hearts of the people," he said, while referring to the government.
He said that the militancy caravan will continue until the issue is resolved through dialogue with the neighboring country and a solution is found. "We will die in this calamity and no one will pay attention," he said.
He also condemned the militant attack at Lal Bazar in which an ASI was killed, while two other policemen were injured and urged the government to help the family of the deceased ASI so that they would not be disturbed.
"The family of the deceased ASI should be well compensated so that they can live with dignity," he added.
On being asked about the crisis in Sri Lanka, Abdullah said that he hopes and prays that such kind of situation does not arise here.
Former Chief Minister lashed out at the government for not allowing them to pay tributes to the 13 July 1931 Martyrs at Kashmir capital Srinagar.
"It's a really sorry state of affairs that the 'Day' we used to observe as an official holiday has become a bane now for the government. To pay homage to these martyrs people used to visit the graveyard to offer prayers but those doors have been closed and we have been stopped from visiting there, he said.