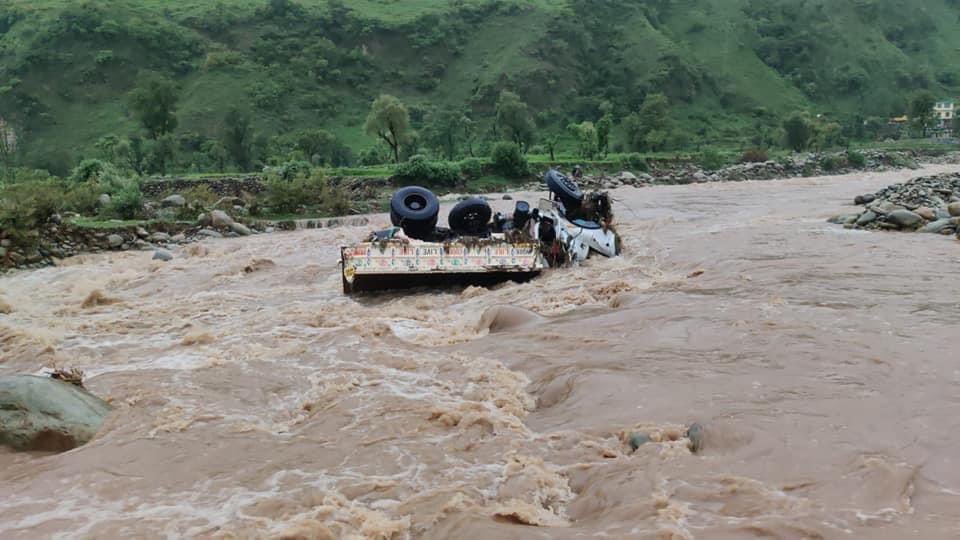 Srinagar, Jul 8: A tipper driver was retrieved dead with his helper still untraced after flash floods swept them away along their vehicle in Rajouri in Darhalli Nallah in Rajouri district on intervening Thursday and Friday night, officials said.
In another incident 55-year-old man killed after landslide hits his house in Poonch
They  said that two persons Sajad Ahmed son of Mohd Aslam and Abrar Ahmed son of Jamal Din, both residents of Soker Kotranka were washed away in Dharhali Nala while loading sand in their tipper. "It happened that during the loading, the water level suddenly increased in nallah, which led to the incident", they said.
"Soon after, a joint rescue operation by police, SDRF and army was initiated to trace the missing persons and so far the body of driver was retrieved from the nallah", they said adding the helper was still untraced with the joint team intensifying operation to locate him.
SSP Rajouri Mohammad Aslam confirming the incident told GNS that the operation is on to trace the missing person.
55-year-old man killed after landslide hits his house in Poonch
A 55-year-old man was killed while his other family members had narrow escape after a landslide hit his Kacha house in Bandikamakhan area of Mandi in Poonch district, officials said on Friday.
They said that the incident happened during night and the man, Abdul Karim Mir (55) was sleeping inside his kacha house. While HE died on spot, the other family members had a miraculous escape.