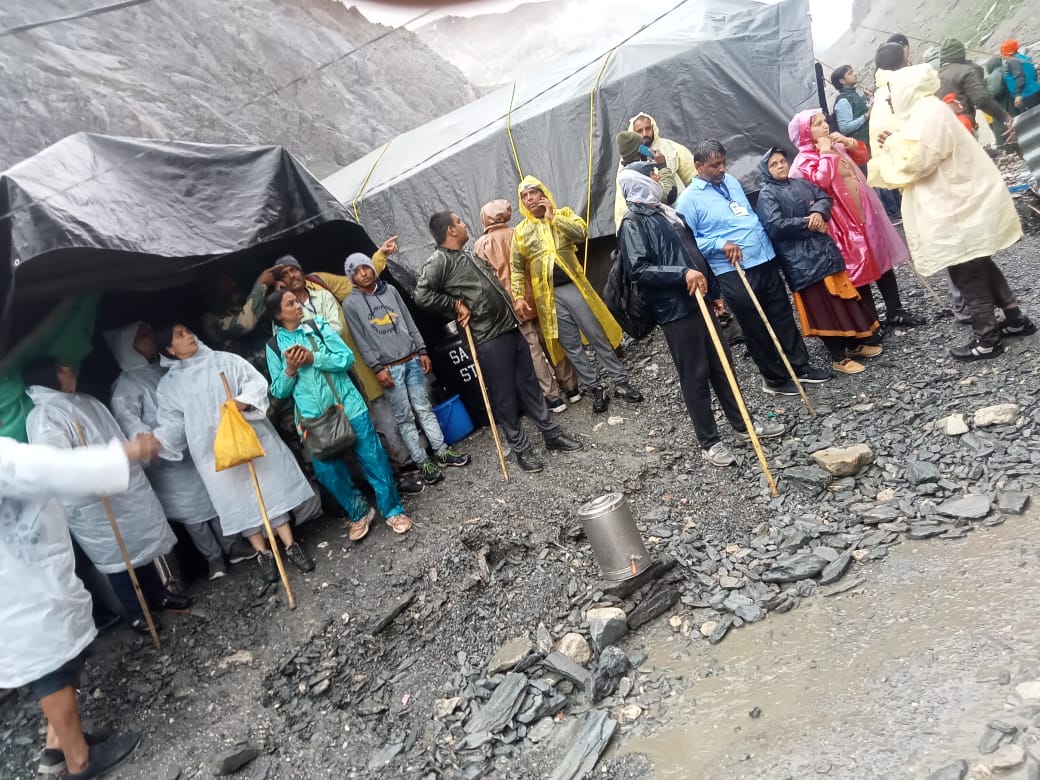 Srinagar, July 8: The death toll in the flash floods triggered by a cloudburst at Baltal area, which houses a base camp for the Amarnath pilgrimage in Ganderbal district, rose to thirteen with the recovery of three more bodies while more than 40 people are still missing, reports and officials said on Friday.
The cloud burst occurred at around 5:30 p.m. and it triggered flash floods. More than two dozen tents and three langers were reported washed away by the floods. While a few persons have been rescued, around 40 people are still missing. "Three more bodies have been recovered , taking the toll to thirteen," a senior NDRF official told GNS.
Teams of police, NDRF and SDRF besides security forces are continuously working at the spot to find out the missing, officials said
Meanwhile Lieutenant Governor Manoj Sinha briefed Prime Minister Narendra Modi and Home Minister Amit Shah.
"Spoke to Hon'ble PM & Hon'ble HM and briefed about the incident. Hon'ble PM & Hon'ble HM has assured all the help," he tweeted, adding, "Our priority is to save the lives of people. Instructions have been issued to provide all necessary assistance to pilgrims. I am closely monitoring the situation".
He also expressed his grief and offered condolence.
"Deeply pained by unfortunate incident of cloudburst at Shri Amarnathji holy cave, in which precious lives have been lost. I send my heartfelt condolences to bereaved families," he said, adding, "Rescue operation by NDRF, SDRF, BSF, Army, JKP & Shrine board admin is in progress."
Earlier in a tweet, police said that "some langars and tents have come under cloud burst/flash floods at HolyCave.
"Six more deaths reported (Total 08 deaths so far). Injured persons airlifted for treatment. Rescue operation still going on," it said. "Situation under control," IGP Kashmir Vijay Kumar said.