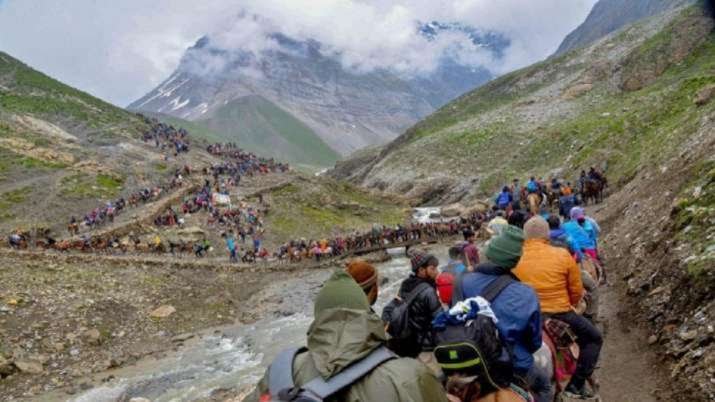 Jammu, Jun 28: Amid deployment of 500 additional companies of security forces, the annual pilgrimage of Amarnath will commence tomorrow (Wednesday) after a gap of two years.
Officials said that at least 500 additional companies of security forces including BSF, CRPF, ITBP and SSB, have been deployed for the smooth conduct of the pilgrimage. This is apart from the army, CRPF, BSF and police forces already present in Kashmir.
"Majority of security forces have been deployed at base camps, Yatra routes and vulnerable points along the highways," they said, adding that as part of the security grid, there will be round the clock patrolling at Yatra routes and highways.
IGP Kashmir Vijay Kumar visited the cave shrine and took stock of the security arrangements in place for the pilgrimage. The J&K LG Manoj Sinha has already stated that there was "no worry as all security arrangements were in place."
Officials said that LG Sinha will flag off the first batch of Amarnath pilgrims from Bhagwati Nagar based Yatri Niwas here on Wednesday morning.
Sources said that LG Manoj Sinha along with administrative officers and Jammu Mayor will flag off the first batch early morning on Wednesday from Yatri Niwas.
They said that first batch will leave for Chandanwari and Baltal routes in tight security convey lead by vehicles from CRPF and J&K.
Officials added that all arrangements, basic facilities are also in place for the pilgrims.
Notably,  Amarnath Yatra is being organised this year after remaining suspended due to Covid pandemic in 2020-21 and in cut short in August 2019 in view of revocation of Art 370.
The 43 days Yatra will conclude on August 11 on the occasion of Raksha Bandhan.
Sinha, who is also the chairman of Shri Amarnath Shrine Board on Monday also visited the Yatri Niwas and took stock of preparations for the yatra.
Sinha said that people of both the regions of the Union Territory are enthusiastic to welcome the pilgrims while the Security Forces are on alert for smooth conduct of Shri Amarnath pilgrimage.
Additional security personnel from police, CRPF, CAPF, CISF, BSF and Army are deployed within Jammu, peripheries and along Jammu-Srinagar national highway for the smooth and safe conduct of the yatra.
Meanwhile, District Administration Kathua today welcomed the first batch of Amarnath yatris at Lakhanpur- the gateway of Jammu and  Kashmir amidst spirited participation of a large number of pilgrims who turned up for annual Amarnath Yatra resuming this year after two years of Covid scare.
The Yatris were formally welcomed at Lakhanpur base camp in Kathua district by Vice Chairman DDC Kathua Raghunandan Singh, DC Kathua Rahul Pandey, SSP Kathua R C Kotwal
At Kathua administration also provided RFID (radio frequency identification) tags to each pilgrams entering in the UT for Amarnath Pilgrimage.
Already registered were given RFID tags at Lakhanpur after mandatory undergo eKYC (Know Your Costumer) verification.
A 24×7 Information help desk has also been set up to provide proper Yatra related information to the visitors.
Moreover, Police have also issued special stickers for pasting them on vehicles ferrying pilgrims and said that no vehicle without HSRP will be allowed to proceed on the highway towards the cave shrine.
"Special teams deputed to verify documents of the vehicles carrying Amarnath pilgrims, following which a special sticker issued and pasted on the windscreen to avoid any other check throughout the journey route," said a police official.
The Jammu and Kashmir administration have also barred non HSRP vehicles from carrying pilgrims. In past we have seen many vehicles with tempered number plates, prone to be use in terror related crimes, to check this, pilgrims are advised to travel only in HSRP fixed vehicles, said a senior police official.kno