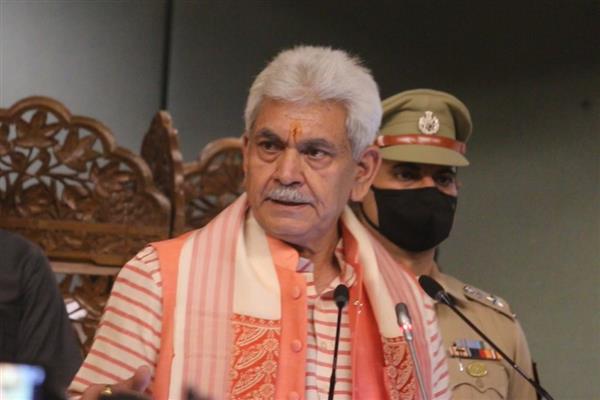 Jammu, Jun 27: Lieutenant Governor Manoj Sinha on Monday said that there is no need to worry as security forces have made elaborate and required arrangements for the annual Amarnath Yatra in Kashmir.
LG was talking to media persons on the sidelines of his visit to Yatri Niwas at Bhagwati Nagar in Jammu.
The 43 day Yatra is going to commence from June 30 amid heightened security alert in view of apprehension of threat from militants. Additional companies of central paramilitary forces have been deployed along the route up till the holy cave shrine. An estimated 6-8 lakh pilgrim is expected to visit the cave shrine in south Kashmir after a hiatus of three years.
Police have called for regulation of traffic on national highways and other roads with emphasis on parking places of yatra vehicles. Close surveillance through drones and closed circuit televisions (CCTVs) CCTVs have been employed for smooth conduct of yatra. Multiple checkpoints have been established for restricting entry of unregistered pilgrims.
Sinha said that the government has made best possible efforts to improve the arrangements for the Yatra and the things are clear on the ground.
"You are covering this Yatra for a long time and improvements in arrangements are clear in front of you also," the LG said.
On a question regarding security arrangements, he said that there is no need to worry as elaborate security arrangements have been put in place.
"Whatever kind of security arrangements are required that have been put in place by the security forces and the forces are working hard and there is no need to worry." Sinha said. kno