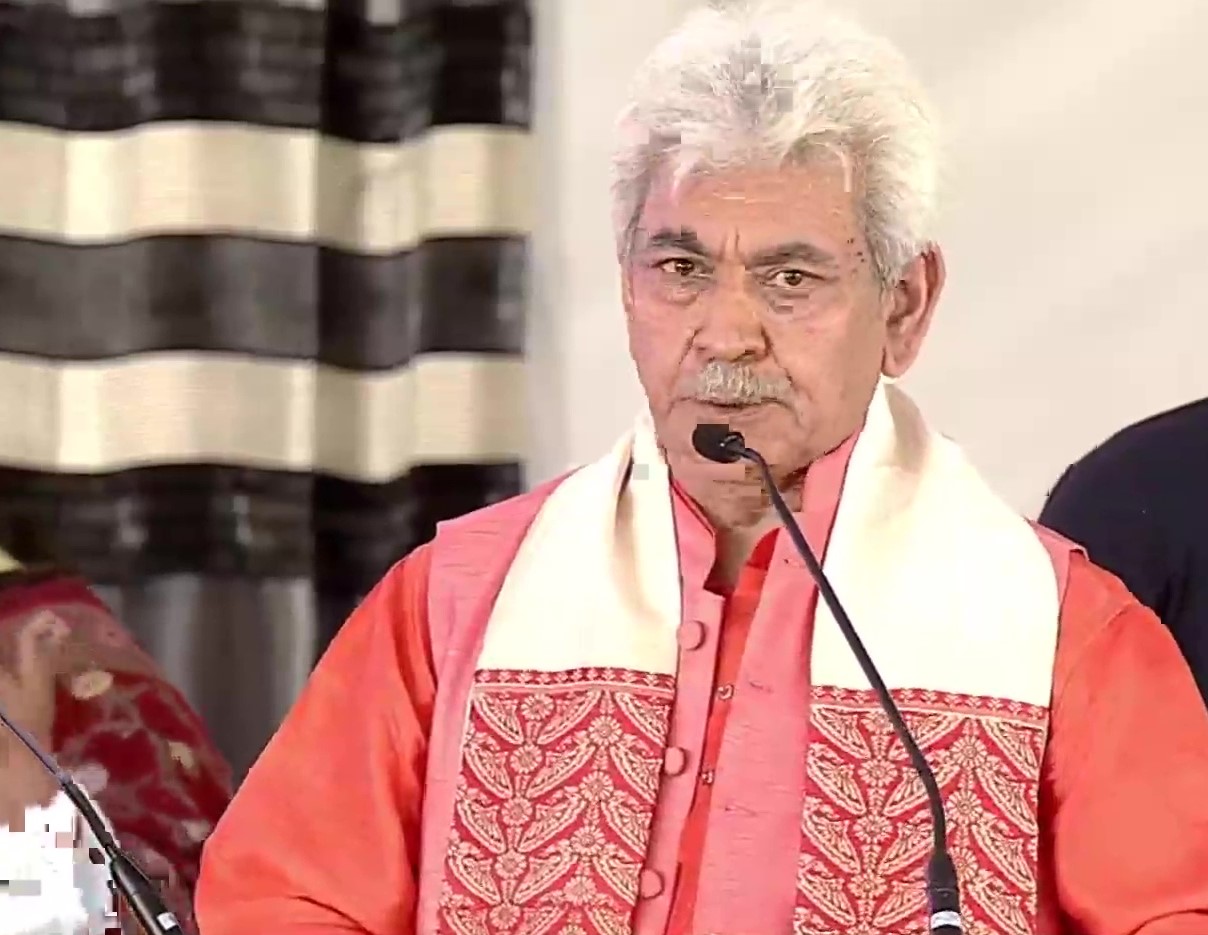 Srinagar, June 25: Lieutenant Governor, Manoj Sinha today inaugurated Sukhnag Sozni Embroidery Cluster at Radbugh in Budgam.
The cluster is established by the J&K Khadi & Village Industries Board (KVIB) with the financial assistance of Rs. 4.45 crores provided by Ministry of MSME (GOI) under (Scheme of Fund for Regeneration of Traditional Industries) meant for development of clusters to make the traditional industries more productive & competitive.
Sinha termed it as a vital step towards preserving the traditional arts turning moribundfor lack of promotion and patronisation.
He reiterated the commitment of his administration for preserving such handicrafts and encouraging the artists associated to these art forms.
On the occasion the Lt Governor assured the artisans that the government is alive to their aspirations and is not going to take them less significantly.
He noted that it is the sheer grit and perseverance of these artisans that has let this master craft transfer from generation to generation.
He ensured them that every effort would be made to make these traditional handicrafts more remunerative and lucrative for the artisan community.
Sinha mentioned that there is heartfelt attachment of Prime Minister Narendra Modi Ji towards all Indian trades and crafts. He noted that the PM is himself very keen to see the artisans provided every kind of support for protecting the traditional Indian arts and crafts from going obsolete.
He outlined that he personally would be more than happy to materialize whatever this community desires to be done by his administration.
Furthermore he acknowledged that every country is identified by the specific arts, crafts and music. He maintained that he is indebted to the artisan community of the UT for professing art forms and possessing skill sets that are not popularising them in the nation only but world over.
He explicated that it is not worth pride for the artisans but for the people of J&K.
Chief Secretary, Dr Arun Kumar Mehta articulated that KVIB should give all the logistical and technical support to these master workers to showcase their products on e-commerce platforms like Amazon, Flipkart, Myntra, Snapdeal etc.
He suggested the board to create such facilities for other crafts in the specific areas of their emergence and production.
Vice Chairperson, J&K KVIB, Dr Hina Shafi Bhat announced that the establishment of the Sozni Cluster is one among many steps the Board is taking for promotion of traditional arts and crafts.
She resonated that the sozni work is an artistic marvel created by the workers using a simple needle or crochets.
She said that the art is famous among women of all age groups and social backgrounds.
She revealed that such a traditional art and craft clusters would be established throughout J&K to provide sustained employment for traditional Industry artisans and rural entrepreneurs.
It was further given out that the Sukhnag Embroidery Cluster has been established in the Magam block of District Budgam as it is famous world over for its exquisite craftsmanship.
It was also said that the main aim for establishment of embroidery cluster is to re-invigorate and boost this village traditional industries activity.
The finished products include Shawls, Stoles, Scarfs, Sarees, Mufflers, Garments and Accessories, as was learnt during the event.
The cluster is anticipated to enhance the product mix, improve product design, colour combination etc to make products customer savvy and attractive.
Currently 500 artisans are associated with this cluster and by next one year, the cluster will cater to 2500 artisans from catchment areas of twin districts of Srinagar and Budgam.
It also envisages to facilitate their sustainable developr ent, to enhance marketability of products by sign intervention and improved packaging and providing marketing infrastructure.
For meeting these objectives this Common Facility Centre (CFC) was established by KVIB under this scheme of Gol. The centre inaugurated today has facilities like dyeing, calendaring, washing, packaging etc.
Marketing support is also being provided to the artisans by way of sponsoring the artisans for participation in National & International exhibitions/ trade fairs, virtual trade fairs and buyer seller meets etc.
Highlighting the significance of this cluster it was said that the facility will increase the earnings of artisans by around 50% besides raising their profit margin by nearly 20%. The turnover of cluster is expected to be Rs. 90 crores and exports are expected to rise to Rs. 65 crores by the end of 2022-23, as was given during this inaugural event.
Later on the Lieutenant Governor hold long interactions with the artisans at Village Kanihama on world famous Gulmarg Road.
LG listened to their views and assured them of meeting all their demands in the times ahead.