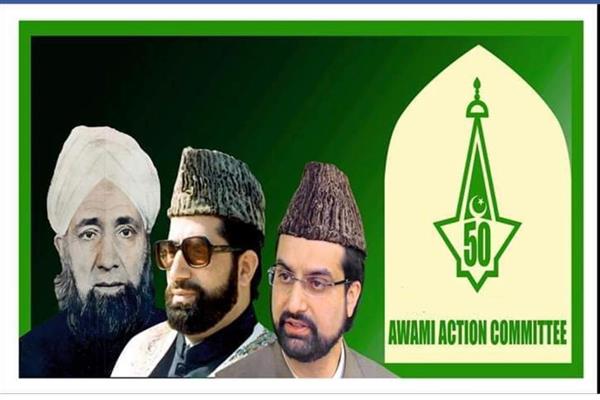 Srinagar, June 20): Jammu and Kashmir Awami Action Committee (AAC) on its foundation day demanded immediate release of its head Mirwaiz Moulvi Muhammad Umar Farooq from house detention for the past almost three years since august 2019.
According to a statement,  AAC said that since there is a ban on any political activity of those seeking resolution of Kashmir issue, no function at the party headquarters, the historic Mirwaiz Manzil or at other Halqas and district headquarters could be organised.
The statement reads that AAC each year celebrates its founding day on June 20 with the determination and commitment that legitimate and peaceful struggle for attainment of goal for which it was founded 58 years ago, will continue.
"The goal is resolution of the Kashmir issue through means of dialogue and understanding among the stakeholders, which is the best available method in a civilised world.
It reads that the organisation paid rich tributes to its founding head Shaheed-e-Millat Mirwaiz Mohammad Farooq (RA) for his sincere, selfless leadership and invaluable and unforgettable service to the Kashmiri people.
AAC also paid glowing tributes to hundreds of its party leaders and carders who tirelessly and sincerely worked all their life for the realisation of its vision and suffered incarceration and innumerable hardships for that.
The statement reads that AAC continues with same mission started by Muhajir-e-Millat Mirwaiz Yusuf Shah (RA) in his time by establishing Muslim Conference along with his comrades.
"And then in 1964, by Shaheed-e-Millat (RA) when he laid the foundation of AAC to carry forward the legacy, despite tremendous challenges and continued to speak boldly for the Kashmiri people at every level till his last breath in 1990 when he was martyred."
It reads that under tragic circumstances the gauntlet was then taken up by young Mirwaiz Umar Farooq who has since been leading the party selflessly by example, firm on its commitment and flexible on the manner.
It added that the detention of its head Mirwaiz-e-Kashmir Dr Moulvi Umar Farooq is in complete violation of his basic and fundamental human rights under every law.
AAC reiterated its demand for immediate and unconditional release of all political prisoners, activists, youth and others including Mirwaiz Umar Farooq.