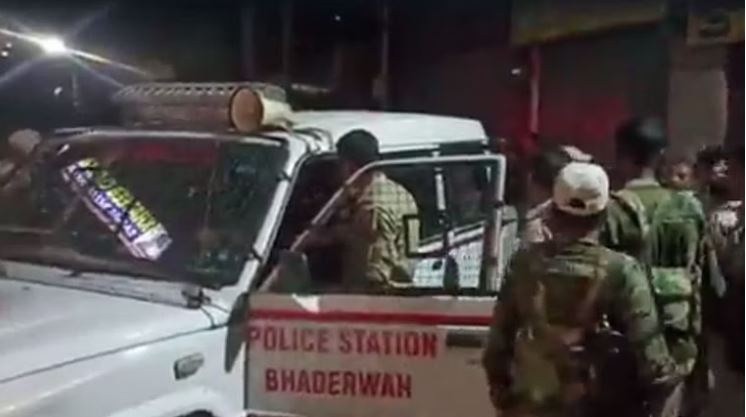 Jammu, Jun 11: With improvement of situation in tension ridded Bhaderwah, divisional administration likely to felicitate civil society meeting on Sunday.
As per sources, situation in three districts of Jammu region, including Doda, Kishtwar and Ramban remained under peaceful following the tension in tourist paradise Bhaderwah.
However, strict curfew and internet restrictions entered into third day.
"The Divisional Commissioner, Jammu Ramesh Kumar Jangid on Saturday visited tension ridden Bhaderwah town and pass important instructions to the administrative officers. This was Divisional Commissioner's second visit to the town in last 24 hours," sources said.
.An official said: "The overall situation remains peaceful in last 48 hours. The administration gave curfew relaxation from 5.00 pm in Doda city, so the people could buy medicines and essential grocery. Mobile internet and high-speed fiber internet services remain suspended for third straight day".
Sources further added that on the directions of divisional commissioner, civil society of both the communities invited for a meeting at Dak Bunglow Bhaderwah.
"If things remain peaceful overnight, administration will felicitate a civil society meeting, where prominent persons of both the communities invited to clear their differences," another officer said.
Meanwhile, continue curfew and restrictions on internet services disrupted the normal public life in three district of Jammu. People are caged inside their homes.
The tourist who got stuck in these area  also feel the nightmares in absence of mobile internet services, as limited ATM in these area also gone cashless.
Earlier on Friday ADGP Jammu Mukesh Singh said that the situation in Bhaderwah is peaceful and they are trying to restore communal harmony at the earliest.
"The people of Bhaderwah showed brotherhood and appealed to the people to cooperate through dialogue," he said.
The ADGP said that police has registered FIR and assured that action as per relevant law.
Administration imposed curfew and snapped internet services, including broadband, in all Doda, Kishtwar and Ramban after protests erupted in Bhaderwah over some objectionable social media post
Senior officers from the police and the administration besides the Army and paramilitary forces were camping in the area to defuse the tension. kno