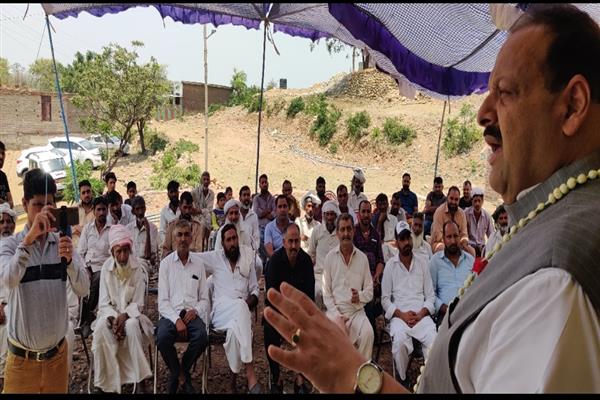 JAMMU JUNE 10 : Cautioning against machinations of straining the time tested inclusive and pluralistic ethos of Jammu, Senior BJP leader Mr Devender Singh Rana today called for identifying, exposing and isolating the elements inimical to peace and tranquility.
"Jammu's tryst with harmony is strong enough to withstand the vicious onslaught of hate mongers", Mr Rana said while interacting with the people at Palpad during his to the area.
He said pluralistic Jammu's ethos of inclusiveness and harmony is the strong citadel against forces who want to disturb the secular fabric of Jammu region.
Rana said the people, irrespective of region and religion, are sagacious enough to see through the attempts of dividing the society and resolute enough to thwart the designs of peace-breakers by maintaining unity and brotherhood. Mutual trust and better understanding of each other's religious beliefs is a hallmark of the Jammu ethos that has surmounted the challenges of times with courage and fortitude. This spirit is actually the guiding force behind the way of life of the peace-loving people, he added.
The BJP leader said the vicious cycle of hate is a threat to civility and detrimental to the spirit of co-existence. Such tendencies have the potential of creating a wedge between different segments of society that is alien to the composite ethos of this region, he said and urged the people to sustain this legacy to bequeath harmonious Jammu to the posterity. He said the region has all along cherished the great values of the pluralistic ethos that has actually been a binding force between various religions. This spirit has not only to be sustained but promoted in a big way to keep at bay the divisive and reactionary forces, he added.
Rana said that those trying to divide people will not succeed in their game plan as coexistence is Jammu's DNA and any attempt of trampling it will face stiff resistance by the society at large.
"Some forces are hell-bent to weaken people's resolve of maintaining unity by exploiting regional, communal and sectarian sentiments in pursuit of their sinister political agenda," Mr Rana said, adding that the people would foil and frustrate their machinations with their full might.
Prominent among those present on the occasion included Hameed Choudhary, Babu Ram, Shah Mohammad, Abdul Mehmood, Abdul, Fared Ahmed, Mushtaq , Mohd Saleem, Jamat Ali, Sobat Ali, Khalim Ali, and others.