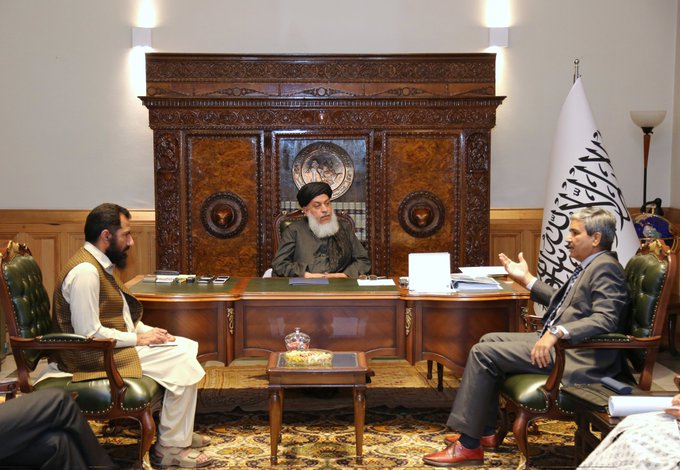 Kabul: An Indian delegation led by the country's External Affairs Ministry's joint secretary, J.P. Singh, visited Kabul on Thursday, the first meeting of India's diplomats with Afghan officials after the fall of the previous government in Afghanistan, Tolo news reported

India's External Affairs Ministry in a statement said that the visit was aimed at overseeing "the delivery operations of our humanitarian assistance to Afghanistan."
On their arrival in Kabul, the delegation met with the acting Minister of Foreign Affair, Amir Khan Muttaqi.
"The meeting was focused on India-Afghan diplomatic relations, bilateral trade and humanitarian aid," said Abdul Qahar Balkhi, a spokesman for the Ministry of Foreign Affairs.
Balkhi said that the acting foreign minister called the Indian delegation's visit to Kabul "a good start" in Afghanistan-India ties.
"Muttaqi also expressed gratitude for the recent Indian humanitarian and medical assistance to Afghanistan, stressing the resumption of projects by India, their diplomatic presence in Afghanistan and the provision of consular services to Afghans, particularly to Afghan students and patients," Balkhi added.
Afghan analysts said that India is interested in engagement with Afghanistan for security reasons.
"India is interested to be present in Afghanistan and it is most likely due to security concerns," said Niamatullah Bizhan, an international affairs analyst.
This comes as Islamic Emirate officials in their recent interviews with Indian media asked Delhi to reopen its embassies in Kabul, vowing to ensure the safety of Indian diplomats. (Tolo news)