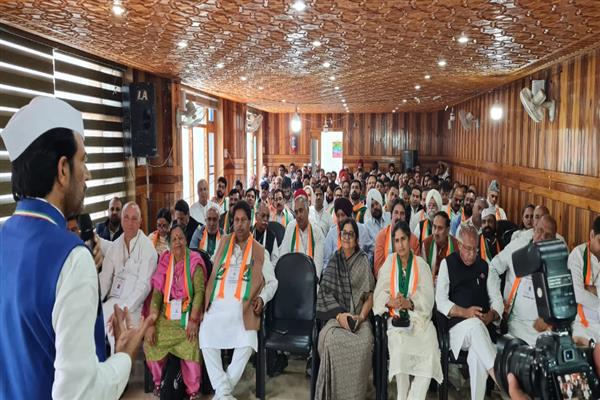 Jammu, Jun 02: A meeting to pose a united face and mitigate difference within the organization, Jammu and Kashmir Pradesh Congress Committee (JKPCC) on Thursday ended up by passing resolution to see its leader and Member Parliament Rahul Gandhi as next AICC President.
JK Congress, which met under the prescheduled program at Patnitop Hills of Jammu, supposed to hold discussions to lead the party towards victory for next assembly elections in Jammu and Kashmir, ended up in passing resolution regarding Rahul Gandhi.
AICC in-charge J&K and Rajaya Sabha MP Rajni Patil, miserably failed to bring any change in position in Congress party in J&K.
As per party insiders, ignoring mass leaders and some former MLA's, who are enjoying good support and rapport in their respective constituencies, the brainstorming meeting to revive Congress was held with naïve political aspirants.
The situation could be measured by the fact that before Jammu and Kashmir Assembly was dissolved in year 2018, Congress had total of 12 MLA's in erstwhile state, but only one ex MLA attended 2day meeting in Patnitop while remaining 11 boycotted the meet.
As per Congress spokesperson, beside passing resolution to see Rahul Gandhi as AICC president, the party condemned continued targeted killings of innocents especially minorities in Kashmir and demands urgent and effective measures to stop innocent killings and ensure the safety of common man and minorities in Kashmir.
It also sought end to the anti-employees policies of the government subjecting them to various kinds of harassment.
AICC in-charge JK affairs Rajni Patil MP, AICC PRO for J&K and Rajya Sabha member (Elect) Ranjeet Ranjan, CWC member Tariq Hameed Karra,  JKPCC President Ghulam Ahmed, Working President Raman Bhalla and top brass of the party including senior functionaries of JKPCC, district Presidents, Former ministers, Ex. Legislators, frontal heads etc from all parts of Jammu and Kashmir presented in two days meeting. kno