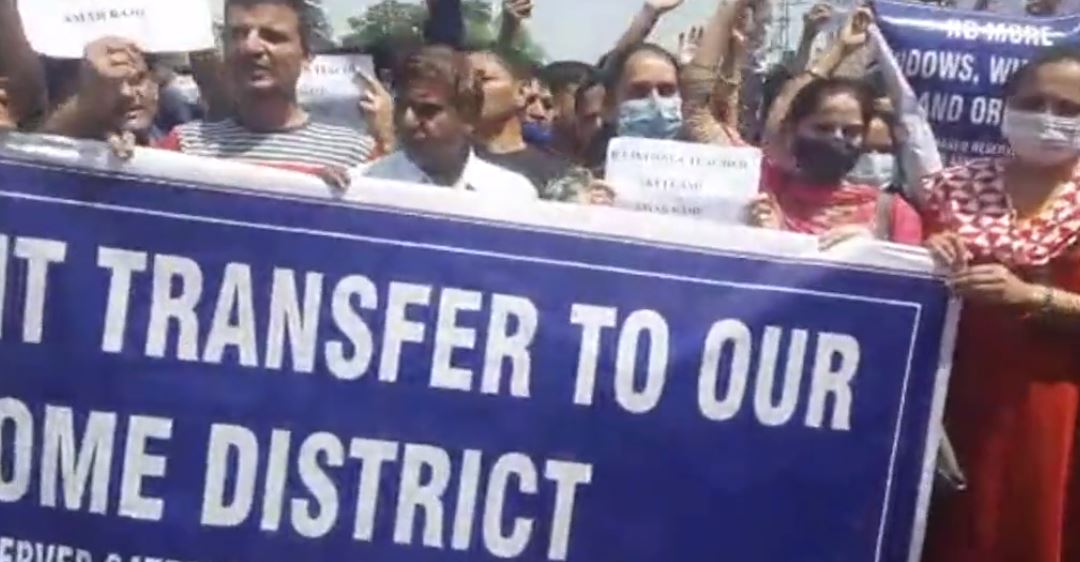 Jammu, Jun 02: Hundreds of government employees, who have posted in various districts of Kashmir under SC/ST recruitment rules of erstwhile state on Thursday, staged a massive in Jammu amid unabated targeted killings in Kashmir, and demanded immediate transfer to their respective home districts.
The protesters were carrying placards in support of their demand and pictures of their colleague Rajni Bala, a school teacher who was shot dead by terrorists at a school in south Kashmir's Kulgam district on Tuesday, and chanted slogans demanding relocation.
The march was carried out from Press Club, initially planned to reach Civil Secretariat or Raj Bhawan, Jammu in the city heart but heavy deployment of police foiled the attempt. The employees later decided to march towards B R Ambedkar Chowk on Railway Station Road.
Assembled under the banner of 'All Jammu-Based Reserved Categories Employees Association', the protesters said they will not resume their duties until situation return to normal in Kashmir.
"The government has 'failed' to stop targeted killings and provide a secure atmosphere to people working there," said protesting employees.
Nearly 8,000 employees from SC and ST communities from different districts of Jammu are working in Kashmir under special recruitment policy for weaker section.
"Jammu based employees and other non local employees feeling unsafe in Kashmir. The targeted killing has been unlashed since October last year, which is going on till today as bank employees was shot dead in broad day light in Kulgam," said the employee.
Rejecting Administration safe location proposal, the protesting employees said, "No location is safer, if bankers which have security guards and CCTV recording are safer then nobody is safe."
The said that everyone has decided that employees will not return and resume our duties in the present atmosphere.
"We are serving there for the last 15 years but are feeling insecure and tense in view of the spurt in the targeted killings," they said.
The employees demanded transfer to home districts.
"The government must formulate transfer policy for SC employees working in Kashmir, if they yet not have any. Nothing is more important than safety," they maintained.
"There is no safer place in the valley and we are not ready to accept the government proposal of relocation within the valley," she said, adding they have never faced any problem from the locals who have always supported them.
She said if the government can abolish decade-old Article 370 in August 2019, what stops them from making minor changes in the transfer policy and relocating them to their home districts-kno