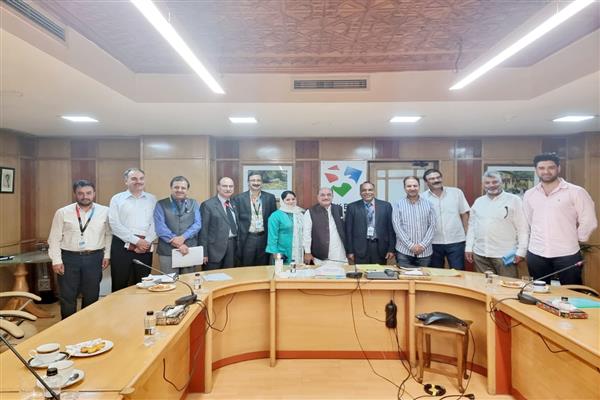 Srinagar, June 02: Associated Chamber of Commerce and Industry Kashmir CCIK Wednesday held a meeting with CEO J&K Bank Baldev Prakash and apprised him of the various issues business community are facing.
The delegation was led by its President Tariq Ghani, Mushtaq Chaya Chariman Tourism Commite of CCIK who were accompanied by Qaiser Mir Chairperson Women's Enterpeneur Committe CCIK, Showkat Hussian Treasurer CCIK, Adnan Shah Chairman Youth Committe CCIK And Arif Qureshi EC member.
Shafat Rufai Reginal Head J&K Bank, Sujhat Andrabi J&K Bank and Tanver Ahmed J&K Bank were also present.
At the outset, the delegation thanked the Bank Chairman for giving them audience and supporting local business community.
The delegation urged the J&K Bank CEO to extend the One Time Settlement scheme by three years so that more borrowers can avail the scheme.
The delegation further urged the CEO that banks should take plant and machinery as mortgage for any project finance not any other external mortgages.
"The bank should also inform the guarantor before deducting any installment so that guarantor can also pressurize the borrower for making the payment to the banks."
Besides, the delegation urged the CEO that the banks should not publish the names of the defaulters which damages his reputation in the society.
Mushtaq Chaya said that the J&K Bank schemes should apply to both new and existing units.
He said the existing entrepreneurs have taken the brunt of the economic slowdown for last few years and thus need financial handholding.
Chaya further urged the JK Bank Chairman to provide financial infusion to local industry at low rate of interest comparatively with other banks so that local units shift to JKB only.
President CCIK Tariq Rashid Ghani said the policy of the bank "any branch is your branch" should be implemented on the ground.