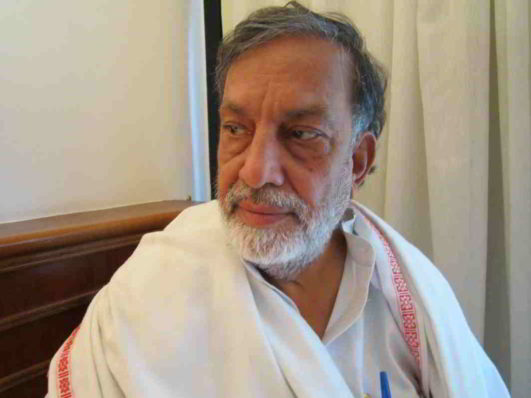 Srinagar, May 31: Prof. Bhim Singh, who was founder of Jammu and Kashmir National Panthers Party, passed away here at a hospital in Jammu. He was 81. Singh is survived by his wife and son. The latter lives in London.
Early Life  
Born on 17 August 1941 in Bhugterian, Ramnagar of Udhampur, Prof. Bhim Singh was a student activist during his school and college days.
As a college student, Bhim Singh was a political activist. He was imprisoned for over 6 months from 1961 to 1962 in Jammu Central Jail.
Bhim Singh was again arrested in 1966 for leading thousands of students in protest while President of the J&K Students Congress Organization.
Education
Prof. Bhim Singh completed his LLB from Aligarh Muslim University in 1967 and LLM and Bar-at-Law from London University in 1972.
Soon after completing his education, he joined active politics again in 1973 when he was appointed as president of Youth Congress of J&K by then Prime Minister Indira Gandhi. Later he was appointed as General Secretary of All India Congress Committee.
Founded National Panthers Party in 1982
Due to political difference with Congress, Prof. Bhim Singh along with his wife Jay Mala founded Jammu and Kashmir National Panthers Party on March 23, 1982. He was twice elected as Member of Legislative Assembly in then State of Jammu and Kashmir.
Lawyer by profession, Bhim Singh had won several landmark cases in the Supreme Court of India and had been jailed several times.
As per a Wikipedia page of the late NPP leader, he has been jailed 54 times, spending an aggregate 8 years in detention, out of which 18 times he was released by order of the Supreme Court.
Contested 1984 general elections from Udhampur
Prof. Bhim Singh contested 1984 general elections from Udhampur constituency. He was declared runner-up in that election with 95, 149 votes.
Prof Bhim Singh later contested 1988 by-elections. As per his age, after the conclusion of the count, he was declared as a winner by then AIR correspondent Ajit Singh.
He even received congratulatory messages from then President of India, Giani Zail Singh. But later due to an alleged election fraud, Congress party candidate Mohammad Ayub Khan was declared as winner.
Disappointed with election results, Bhim Singh filed a review petition against the order of the Election Commission of India, stating the declared result was rigged at the instance of Rajiv Gandhi and Farooq Abdullah, leaders of the ruling coalition parties.
Atal Behari Vajpayee joined Bhim Singh on hunger strike in front of the Election Commission offices in protest to the vote rigging.
The Jammu and Kashmir High Court ruled in favour of Bhim Singh, however when Justice K.K. Gupta delivered the judgement four years later on 15 October 1992, the relevant session of parliament stood dissolved already.
In response to his review petition against the ECI order, the Jammu and Kashmir High Court delivered the judgment in his favour four years later, but by then, the session of Parliament had already been dissolved.
The Supreme Court had awarded Singh Rs 50,000 compensation for his illegal imprisonment by the then state government that followed his suspension as a member of the Jammu and Kashmir Legislative Assembly in 1985.
In 2002, Prof. Bhim Singh's party Jammu and Kashmir National Panthers Party (JKNPP) won four Assembly seats with his nephew Harsh Dev Singh serving as Education Minister.
In 2007, he withdrew support to the Congress Party led coalition, citing differences with the Peoples Democratic Party, another member of the PDP-Congress coalition government.
Bhim Singh was Panthers Party chairman for 30 years, until 2012 when he nominated his nephew Harsh Dev Singh in place.
Painful last Days
In 2021, Bhim Singh made a return to active leadership aged 79, when he was elected president of Panthers Party due to some alleged differences with NPP chairman and his nephew Harsh Dev Singh.
He remained the Party Chairman for 30 years, until 2012 when he nominated his nephew Harsh Dev Singh in his place.
He made a return to active leadership last year, when he was elected President of Panthers Party.
He even levelled serious allegations against party leaders Harsh Dev Singh and his associate Gagan Pratap Singh and got an FIR registered against the duo in March 2022, alleging both of threatening and harassment.
Harsh Dev Singh, however, blamed Prof. Bhim Singh of decimating his own party.
Prof. Bhim Singh was not well for the past around one year. At the age of 81, he passed away at Jammu's Bakshi Nagar hospital.
Cutting across the political, regional and religious lines, Bhim Singh was loved equally by people of Jammu, Kashmir as well as Ladakh for his immense contribution in UTs' politics. He has fought several battles either through judiciary or politics for the most neglected, downtrodden and poorest masses of the twin UTs.
People from different spheres of life and political organisations have expressed condolence over his demise.
Prime Minister Narendra Modi has expressed deep grief over the demise of Prof Bhim Singh. Modi said that Prof Bhim Singh Ji will be remembered as a grassroots leader who devoted his life for the welfare of Jammu and Kashmir.
Recalling his interactions with Prof Singh,  Modi said, he was very well read and scholarly.
Prof Singh was also a human rights activist, author and a Supreme Court lawyer, who was re-elected unopposed as a senior executive member of the Supreme Court Bar Association.
Singh had also provided legal aid to over 200 people from Pakistan, Afghanistan and Pakistan Occupied Kashmir, who were languishing for decades in different jails across the country.
His help saw the release of most of these prisoners. The veteran leader, who travelled to over 130 countries around the world on a motorcycle, was friends with stalwarts such as Palestinian leader Yasser Arafat, Cuban revolutionary Fidel Castro, Iraqi President Saddam Hussein and Libya's dictator Muammar Gaddafi. Meanwhile, National Conference chief Dr Farooq Abdullah visited the house of Bhim Singh in Udhampur and offered his heartfelt condolences. Talking to media men, Dr Farooq said that he lost a good friend, who was a great leader who always fought for the people's rights irrespective of cast, colour and creed.kno