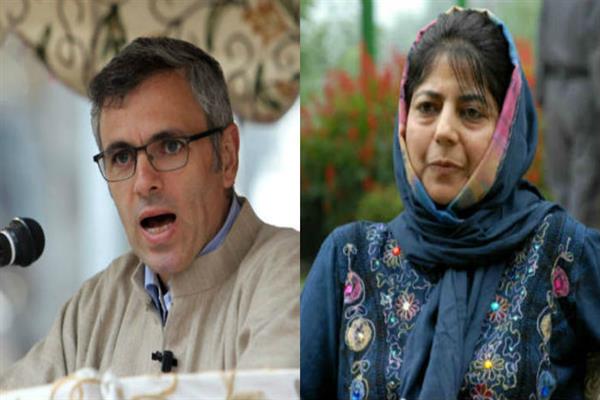 Budgam, May 27: Former Chief Ministers of erstwhile J&K state, Omar Abdullah and Mehbooba Mufti visited residence of TV artist Ambreen Bhat who was shot dead and her 10-year-old nephew injured allegedly by the militants at Qanungopora Hushroo area of Chadoora in central Kashmir district on evening of May 25.
According to statement, Omar visited the residence of the TV artist to express solidarity and sympathies with the bereaved family.
He was accompanied by Party's Provincial President Nasir Aslam Wani, Senior leader A R Rather, Zone President Ali Muhammad Dar, his deputy secretary Mudassir Shahmiri.
"Visited Ambreen Bhat's family. Shocked to know that no one from LG admin has bothered to visit them. A sole breadwinner, she struggled to make ends meet. Hope the govt takes her circumstances into consideration and extends help (sic)," Mehbooba, who is president of PDP, said in a tweeted.
She said the artist was a "martyr" as she had lost her life for fending for her family.
"We believe that anyone who dies while looking for a livelihood is a martyr," Mufti said.
Asked about the police claim that the militants involved in the killing of Bhat were neutralized, the she said, "It is weird that within 12 to 24 hours of a civilian killing, they claim that the perpetrators have been killed. I cannot say anything more on it."
Mufti said while innocent people like Amreen Bhat, Kashmiri Pandit employee Rahul Bhat and civilian Shoaib Ganaie are getting killed day in and day out, the government of India was going "hammer and tongs" with its claims that normalcy has returned to Jammu and Kashmir.
"The situation has only worsened as the government is continuing with its muscular policy of oppression and suppression," Mehbooba said.
She also alleged that the BJP-led government at the Centre was looking at Jammu and Kashmir as a "security and religious issue."
"They think this is a Muslim-majority place, if people are dying, let them. This will not help improve the situation," she said.
Meanwhile Additional Deputy Commissioner (ADC), Budgam, Dr Nasir Ahmad accompanied by Sub- Divisional Magistrate Chadoora, Prince Noorul Hamid visited the residence of the artist and expressed solidarity and sympathy with the deceased family members on behalf of District Administration Budgam.
The officers extended condolences and sympathies with Khazir Mohammad Bhat, father of late Amreena Bhat who was shot dead by "unidentified gunmen on May 25 at her residence."
The ADC also handed over a cheque of Rs 1.0 lac as instant ex-gratia to her father on behalf of District Administration.