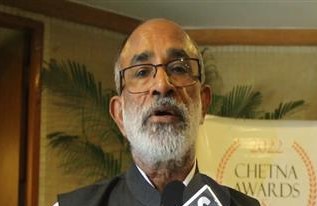 Srinagar, May 24: Senior Bhartiya Janta Party leader and member of parliament, K J Alphons on Tuesday said that elections in Jammu and Kashmir will happen anytime soon.
He said that with delimitation of constituencies done in J&K, elections will happen any time.
He said that he was very happy to see the development and infrastructure building in Jammu and Kashmir and Ladakh.
"I visited many places like Pahalgam, Srinagar and all other places six months back. I saw tremendous changes and that is what the Prime Minister actually wanted to do, to bring back normalcy here," he added.
He also said that there is a spirit that they are a one country and they can achieve so much working together.
Akhons said that he was also highly impressed at the development of Ladakh during his visit to the place.
"I was extremely happy to see the beautiful roads, great infrastructure and hospitals. In the past fifty years nothing had happened but now we see a whole lot of development," he said.
He also urged the country men to visit Jammu and Kashmir to explore the tourism.
We all need to do visit the Jammu Kashmir and Ladakh to enjoy their hospitality, tourism. This will create jobs among the people, he added.kns