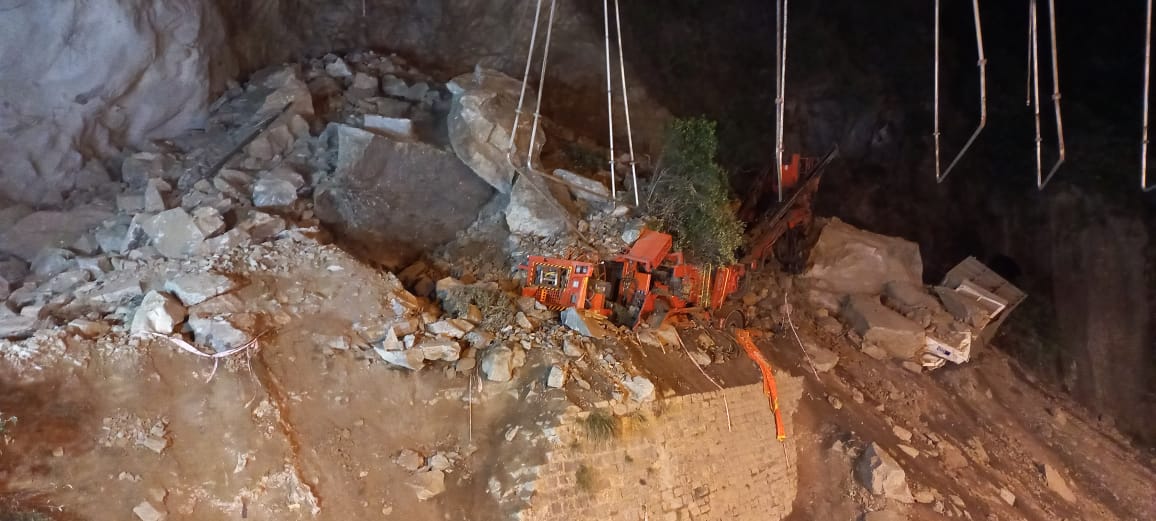 Ramban, May 20: A labourer was killed and nine others were feared trapped after a portion of an under-construction tunnel on the Jammu-Srinagar national highway in Ramban district collapsed late on Thursday night, officials said Friday.
A small portion of the front side of the tunnel at Khoni Nallah area of Ramban collapsed on Thursday night at around 10.15 pm during an audit, officials said, adding that a joint rescue operation was launched immediately by police, Army, NDRF, SDRF and QRT.
District Development Commissioner Mussarat Islam said that one body was recovered from the debris while 9 people are still trapped. "Three injured were rescued and shifted to hospital yesterday", he said.
Senior Superintendent of Police (SSP) Ramban Mohita Sharma said that sixty per cent of the debris clearance near the tunnel was completed. "Frequent shooting stones/landslides and inclement weather conditions are making it harder to remove debris covering the mouth of the tunnel," the SSP said.
Officials said several machines and vehicles, including bulldozers and trucks, parked on the front side of the tunnel, have suffered damage, adding that those people who become victim of tunnel collapse belong to the SARLA company conducting the work of auditing the tunnel.
Director of Disaster Management, Jammu and Kashmir, Aamir Ali said out of 10 missing people body of one has been recovered so far. "Operation has been hampered due to bad weather conditions", he said.
The deceased has been identified as Sudhir Roy (31) son of Manik Roy from West Bengal while as the missing people have been identified as Jadav Roy (23), Gautam Roy (22), Dipak Roy (33), Parimal Roy (38) all from West Bengal, Shiva Chowhn (26) from Assam, Nawaraj Chowdhury (26) from Nepal, Muzaffar (38) and Israt (30) from J&K.
Officials said that Jammu and Kashmir Lieutenant Governor Manoj Sinha took stock of the rescue operation and overall situation at a tunnel collapse site in Ramban, Jammu through a video call to Ramban District Commissioner Mussarat Islam.
The Deputy Commissioner of Ramban, DIG Dr Sunil Gupta, SSP Mohita Sharma and Senior NHAI officers have been supervising the rescue operation since midnight. Divisional Commissioner Jammu Ramesh Kumar and ADGP Jammu Mukesh Singh have also visited to the spot, they said.
An official handout said that the Lt Governor also chaired a high-level meeting with senior officials at the Civil Secretariat and discussed the progress of rescue operations. "The rescue operation was started last night with District Administration, Police, NDRF, SDRF and Army personnel on the ground. The Lt Governor, who is monitoring the situation from a control room, was briefed about intermittent shooting stones, which have been obstructing the rescue operation," the statement said, adding that the LG expressed concern over the incident and stressed to continue the rescue operation till last person is rescued.kno