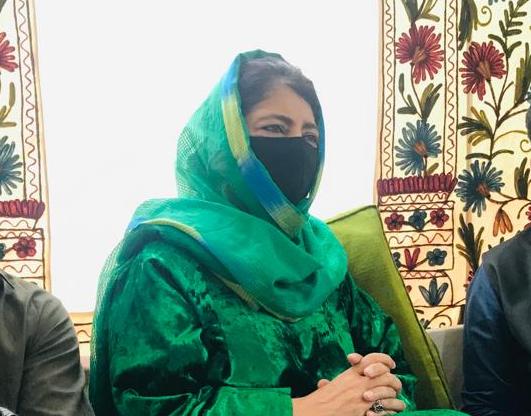 Srinagar, May 11: People's Democratic Party President Mehbooba Mufti on Wednesday said that Unity is the only way left for people of Jammu and Kashmir to fight back for their dignity and identity. 
Addressing Party workers here at Party headquarters, Mehbooba said that there is no way out because of the circumstances Jammu and Kashmir is going through after August 2019 and these circumstances demand that People of J&K irrespective of religion,caste, creed and communities have to unite so to fight for dignity and identity.
Mehbooba said that people are Jammu and Kashmir are facing lot of challenges after the abrogation of special status on 05 August 2019 including disempowerment of people.
"We are facing serious challenges after 05 August as new laws are being implemented here. Vacancies are not being filed as govt is waiting for people from outside to apply here for jobs", she added.
Mosques are being attacked and attacks on Muslims are also rising every day, Mehbooba said adding that they are talking about Mughal assets but they can't attack them as Mughals left unfading mark on topography of country.