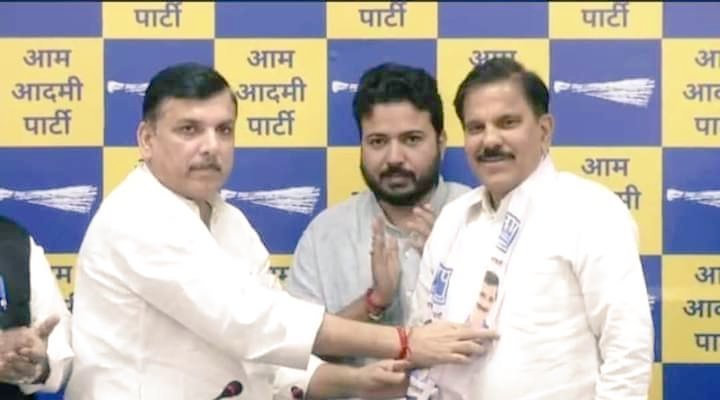 Jammu, May 07: Former Education Minister of Jammu and Kashmir, Harsh Dev Singh among scores of leaders from Jammu Kashmir National Panthers Party (JKNPP) on Saturday joined Aam Aadmi Party (AAP) at its headquarters in New Delhi.
The announcement was made during a presser addressed by AAP's leader and Rajya Sabha member Sanjay Singh, Jammu & Kashmir in-charge Durgesh Pathak and Kashmir in-charge Kashmir and Delhi minister Imran.
Singh, who was also chairman of Panthers Party along with several other leaders including Rajesh Pandgotra provincial president, Gagan Pratap Singh Spokesman, Purushottam Parihar and Sudesh Dogra joined AAP today.
Welcoming Harsh Dev Singh, Sanjay Singh said that joining of J&K's former minister in AAP will ink a new chapter in Jammu and Kashmir's politics.
"We have started a new chapter in the politics of Jammu and Kashmir. Harsh Dev Singh is a tall leader, who won assembly elections thrice and remained MLA for 18 years. AAP will definitely benefit from his political experience," Singh said.
The development came almost three week when his cousin, former colleague in Panther Party and Ex Udhampur MLA Balwant Mankotia joined AAP along with 100 more political activists.
Harsh Dev Singh represented Udhampur's Ramnagar constituency for a record three times. He remained Education Minister for a short stint during the PDP-Congress coalition government, where JKNPP also remained a partner.
Earlier, Harsh Dev Singh had met Delhi Deputy Chief Minister Manish Sisodia in New Delhi on April 7 fueling speculations that he may also join the AAP bandwagon.
The UT is likely to go to maiden assembly elections following revocation of special status in August 5, 2019, and bifurcation of the then state into two UTs of J&K and Ladakh.
Following AAP's landslide victory in Punjab, it has started making inroads in J&K.
Amid simmering discontent against the local Bharatiya Janata Party (BJP) unit, Aam Admi Party (AAP), bolstered by its landslide victory in the Punjab assembly elections, has been making rapid strides forward in Jammu and Kashmir and started to emerge as another viable option.kno