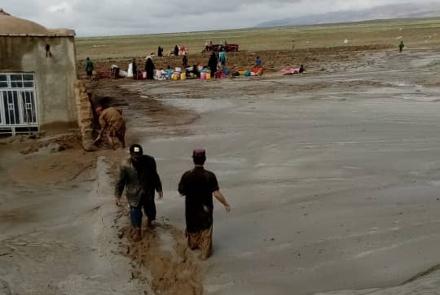 Kabul: Nearly 20 people have died and 30 others were injured in flooding in more than 10 provinces of the country over the past several days, the officials said on Wednesday, Tolo news reported.
The deputy Minister of Natural Disaster Management, Mawlawi Sharafuddin Muslim, said the flood left dozens of houses destroyed and caused losses of around 100 livestock.
"We have 18-20 dead and 30 wounded due to the floods. Two people have been missing. More than 100 livestock were lost and 100 residences were destroyed," he said.
Following heavy rainfall, the floods hit Kandahar, Helmand, Herat, Badakhshan, Takhar, Parwan, Kunduz, Maidan Wardak, Baghlan, Faryab and Jawzjan provinces.
However, Baghlan, Parwan and Badghis were the three provinces affected most severely by the recent floods.
Flood victims called on the current Afghan government to provide them with essential aid.
"Two of my children are missing. My wife and daughter are under mud," said Abdul Malik, a resident of Parwan.
"100 residences are destroyed. 10 residences are destroyed completely, and several others are partially damaged," said Mohammad Idrees Anwari, deputy governor of Parwan.
Many people suffered heavy financial loss in the floods.
Earlier, the Afghanistan Meteorological Department reported that at least 27 provinces would witness heavy rainfall.
According to the department, the rainfall is between 20-60 mm in various parts of the country. (Tolo news)