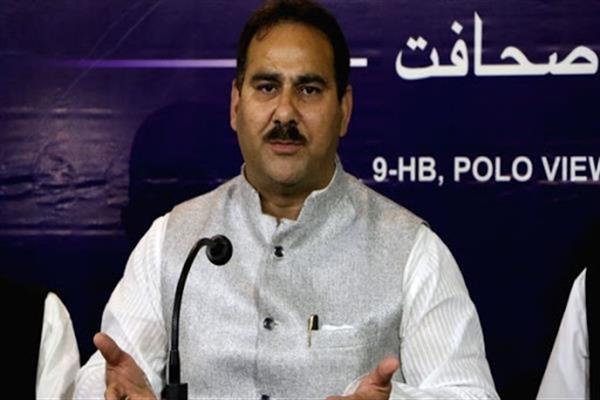 Srinagar, April 23:  Demanding 'White Paper' on Displacement of Kashmiri Pandits in the Valley, National General Secretary of Rashtriya Lok Jan Shakti Party Sanjay Saraf demanded setting up of a commission to find out motives behind the killings of innocent Pandits, Sikhs and Muslims.
Addressing a press conference at his residence in Srinagar,  Saraf  said that the conditions faced by Kashmiri Pandits in the Valley in 1990 led to forced  migration from their homeland to live in Jammu and other parts of India were woeful.
Saraf also stressed on the point that Government of India and the Lieutenant Governor should issue a 'White Paper' on this issue to provide justice.
He said that the rulers of that time should be prosecuted and they should be brought before the people's court as to why they failed to stop these killings and displacement.
Describing the resettlement of Kashmiri Pandits as a humanitarian issue,  Saraf said that it is important to understand the plight of Kashmiri Pandits and how they, along with their young children and elders, had to endure hardships in other regions far from their homeland.
Welcoming the arrival of Prime Minister Narendra Modi in Jammu and Kashmir as a good omen, he said that people have faith and trust that Prime Minister's visit  will prove fruitful and more avenues would be paved for progress and development in Jammu and Kashmir.
He hoped that the PM Modi would announce a comprehensive package keeping in view the present situation of Jammu and Kashmir, so that besides eliminating unemployment in Jammu and Kashmir, educated youth could get employment.
"Central Government and the Lieutenant Governor of Jammu and Kashmir were serious about bringing Jammu and Kashmir on the development map, however, further progress is needed in this direction," Saraf said.
He said that the influx of tourists was also a testament to the fact that Jammu and Kashmir is on the path of development.
Advocating for regularisation of daily wagers and casual labourers in Jammu and Kashmir, Saraf said that these employees have been working on the front line for a long time risking their lives.
He said that during these time hundreds of employees lost their lives and hundreds became physically disabled, however, they continued their services in spite of fierce and severe weather conditions and pandemic like Covid.
Saraf said that about 80,000 of these daily wagers are starving because they are deprived of salaries on time.
He also demanded the government to immediately release their pending salaries before Eid, besides allocating salaries regularly in the budget, and to take immediate steps for their regularization.
Saraf demanded availability of electricity and water during Sehri and Iftari in the month of Ramadan and said that the Lieutenant Governor led administration to take complete steps in this regard so that the fasting people do not face any difficulties.
Stressing on reasonable of prices availability of meat, poultry and other items on Eid, he said that black marketing should be eradicated and dealt with strict measures by Govt and also  administration be active in this regard.