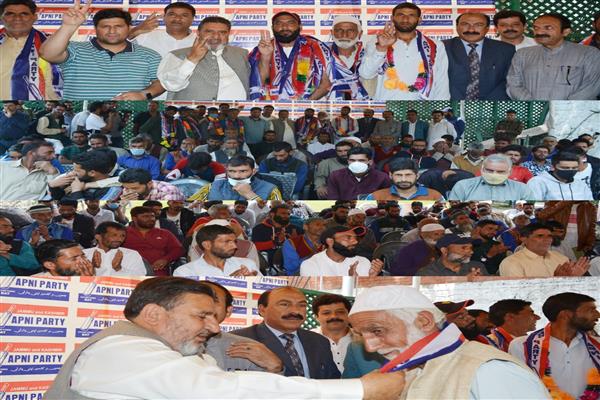 Srinagar April 11: Apni Party witnessed major joining from Shopian.
Those persons who joined belonged to Heerpora, Dachnoo, Borihalan and some other areas of District Shopian.
The joining took place in presence of Apni Party President Syed Mohammad Altaf Bukhari at its party office in M2 Church Lane Sonwar Srinagar.
The joining program was organised by Vice Chairman DDC and Apni Party State Youth General Secretary Mr. Irfan Manhas.
The new entrants were welcomed into the party fold by Syed Mohammad Altaf Bukhari who in a released statement to the press said Shopian holds high value in the demography of Jammu and Kashmir and many power hungry politicians have used the people of Shopian as mere vote bank during elections on pretext of restoring Article 370 and 35A. He stated that Shopian has witnessed unprecedented times and now the time has come to change the narrative by making the people of Shopian empowered, self sufficient and pave way for development and prosperity in the entire district.
"People of Shopian especially the youth have been derailed by the greedy good-doers who have raised false claims of restoring the Article 370 just for winning the elections. Power hungry politicians have sent their children abroad to study leaving the youth of the valley astray for their own political gimmick. The traditional politicians have been unmasked and now Apni Party will pave way towards the betterment and welfare of the common masses especially for the Youth in terms of empowerment, employment and other welfare measures," he said.
Besides Bukhari, State Secretary and District President Budgam Muntazir Mohi-ud-din,, District President Pulwama Ghulam Mohammad Mir, District President Ganderbal Javaid Ahmed Mir, District Vice President Shopian Advocate Gowhar, Block President Shopian Nazir Ahmad Bhat and several other leaders were also present.
Many prominent associates from various political parties including BJP, NC and PDP joined the Apni Party fold. The new entrants included Aijaz Ahmad Sheikh Sarpanch Heerpora, Abdul Hamid Bhat Panch Borihalan, Abdul Qayoom Bhat former Panch from Dachnoo, Farooq Ahmad Sheikh Panch Dachnoo, Ayaz Ahmad Mir youth Activist, Mohammad Ashraf Kakapoori Panch Heerpora, Mohiudin Ahmad Political Worker Heerpora, Arshid Ahmad Wani Political Worker, Shabir Ahmad Sheikh Senior Political Worker and several other members also joined the party fold.