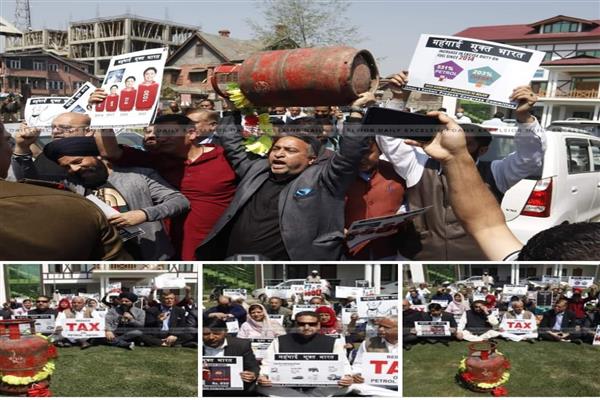 Srinagar April 7:The Jammu and Kashmir Pradesh Congress Committee (JKPCC) Thursday held peaceful protest demonstration against the unprecedented price hike on Petrol, Diesel, Cooking Gas and other essentials commodities in Srinagar.
Former Legislators, Senior Leaders, DCC Presidents, Block Presidents and Prominent Party workers including frontals protested against inflation while raising slogans against the Centre Govt for the unprecedented price hike, terming it as a loot and assault on people's economy especially weaker and down trodden section of the people, according to the party.
Congress Leaders displayed play cards, gas Cylinders demanding roll back of prices, which is responsible for pushing poor and weaker sections to backwardness. while slamming the Centre's failed economic policies.
Senior Party Leaders while addressing the workers on this occasion said it was astonishing that prices of Petrol, Diesel etc were under control during the elections in five states, but soon after the results were out, Centre Govt hiked the prices again, which shows how the BJP Govt is behaving and exhibiting its ignorant attitude about the wishes of the people. BJP is exploiting people for electoral benefits, they said.
They added that people have already undergone tremendous economic stress and losses due to the lockdown, besides the Covid mismanagement on the part of Centre Govt had badly hit them in every respect.
Congress Leaders and workers tried to take out peaceful protest march from party headquarters but they were prevented by the State Police and not allowed to move towards Lal Chowk.